I love Thai food. Citrus, sweet and salty all combine to make food with so much flavor. I just started venturing into making Thai and I'm glad I gave it a try. So many of the ingredients can be used in different dishes. And once you get the hang of adjusting the spice level, you'll love it too. This recipe is so good but it cooks fast! So, make sure you have all your ingredients ready to go. If you don't have a wok, an iron skillet works just fine. It just needs to get really hot to sear the beef and veggies.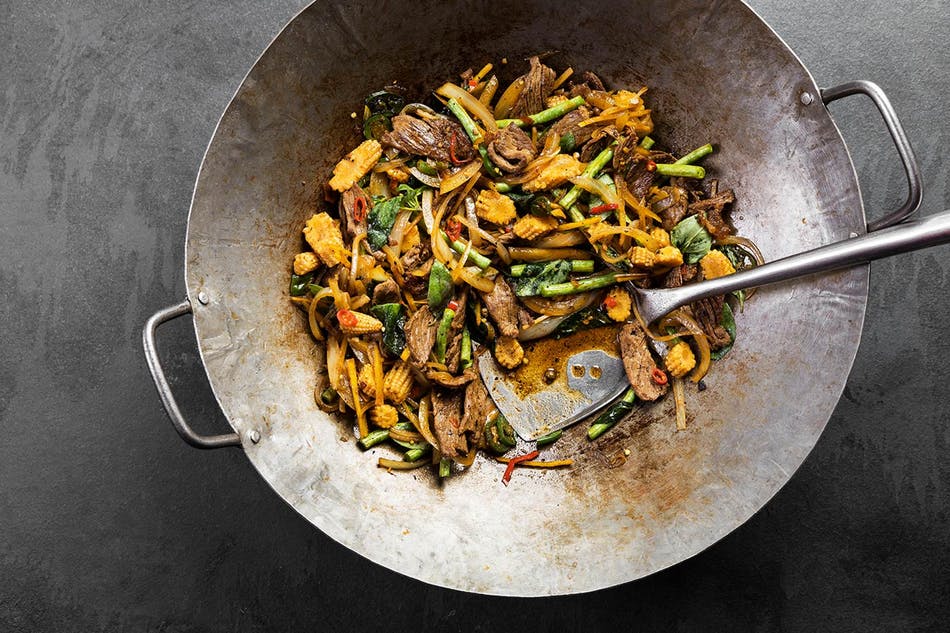 Thai Spiced Beef
Ingredients
2 garlic cloves
2 red Thai chiles
2 tablespoons lard or soybean oil
8 ounces beef sirloin, thinly sliced (if you freeze the beef half way, it's easier to cut in thin strips.)
1 tablespoon pickled green peppercorns
1 green Thai chile, crushed
One 2-inch piece ginger, peeled and julienned
½ long green chile, thinly sliced into rings
½ long red chile, thinly sliced into rings
2 ounces (⅓ cup) long beans, cut into 1½-inch batons (I use french green beans or just regular green beans and it was fine.)
½ cup sliced baby corn
½ yellow onion, thinly sliced
1 tablespoon oyster sauce
1 teaspoon fish sauce, plus more to taste
1 teaspoon soy sauce
1 teaspoon granulated sugar
6 tablespoons beef stock
½ cup slivered basil leaves
1 teaspoon Lao Khao or sake
Directions
1. Using a mortar and pestle, crush the garlic and red Thai chiles into a paste. (if you don't have a mortar and pestle, I've used a pie dish and a small glass, it works!)
2. In a large wok or other skittle that gets hot like an iron skillet, heat the lard/oil over medium-high heat. Add the chile paste and the beef, and stir-fry until fragrant and golden, 2 to 3 minutes.
3. Add the pickled green peppercorns, green Thai chile, ginger, long green chile and long red chile, then stir-fry until fragrant, 1 minute.
4. Add the long beans, baby corn and onions, and cook until the vegetables are tender, 3 to 4 minutes.
5. Stir in the sauces and sugar, followed by the beef stock. Bring to a boil, then remove from the heat and stir in the basil leaves and Lao Kho/sake.
6. Adjust the seasoning with fish sauce, then divide between plates and serve.