Grilled Cesaer Salad… delicious. There is something about charring the greens with the saltiness of the Cesaer Dressing that is irresistable. So fire up the grill and this weekend, make your salad on the grill.
Grilled Cesaer Salad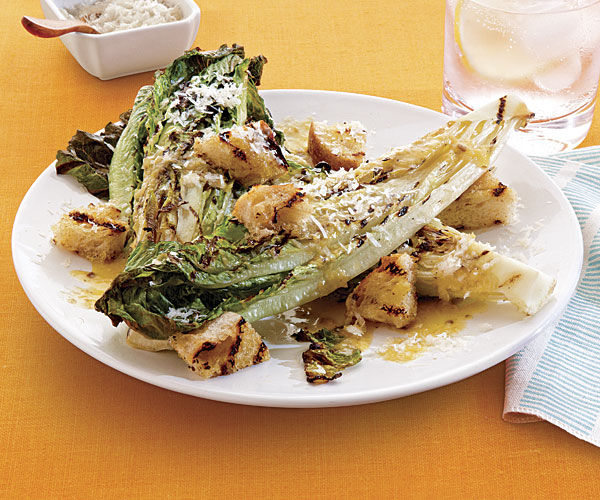 Ingredients
1 medium clove garlic, peeled

Kosher salt

4 anchovy fillets, rinsed well and patted dry

1 large egg yolk (used pasturized if you prefer)

2 Tbs. fresh lemon juice; more as needed

1/2 cup plus 3 Tbs. extra-virgin olive oil; more for the bread

1 oz. finely grated Parmigiano-Reggiano (1 cup using a rasp grater); more for serving

Freshly ground black pepper

3 3/4-inch-thick slices crusty white bread

3 hearts of romaine, quartered lengthwise, with the cores intac
Preparation
Prepare a charcoal or gas grill fire for direct grilling over medium heat (350°F).

With a mortar and pestle (or using the side of a chef's knife), pound or mash the garlic to a smooth paste with a pinch of salt. Add the anchovies and pound or mash again until smooth. Transfer the mixture to a small bowl. (Or, if the mortar is large enough, leave it in the mortar.) Add the egg yolk. Whisk in the lemon juice, then whisk in 1/2 cup of the olive oil in a slow stream until emulsified. Add the Parmigiano, and several grinds of black pepper and whisk to combine. Season to taste with more salt or lemon juice.

Brush the bread slices on both sides with olive oil. Grill until toasted, about 1 minute per side, then cut or tear into bite-size pieces.

Put the romaine on a baking sheet and drizzle with the remaining 3 Tbs. olive oil. Toss gently to coat evenly and season with salt. Place the romaine on the grill cut side down and grill until nicely marked, 1 to 2 minutes. Turn and mark on the other cut sides, 1 to 2 minutes more.

Transfer the grilled romaine to a platter or individual plates, and sprinkle the croutons on and around the romaine. Drizzle a generous amount of the dressing on top and sprinkle with additional Parmigiano. Serve immediately, passing any remaining dressing at the table.