I love fish. It's healthy and fits into my long term plan to eat less and less meat. And it's perfect for summer because fish and the grill just go together. Fish only needs to marinate for a short time, so getting flavor is easy and works well for after work dinners. One of my favorite fish is mahi mahi. It's a white flaky fish this stands up to the grill but is still fairly delicate. The key to all fish… do not over cook. An overcooked fish is a sad fish.  This is one of my favorite recipes and I hope you love it too. Lots of flavor and just a slight kick if you want it. If not, just skip the  cayenne pepper.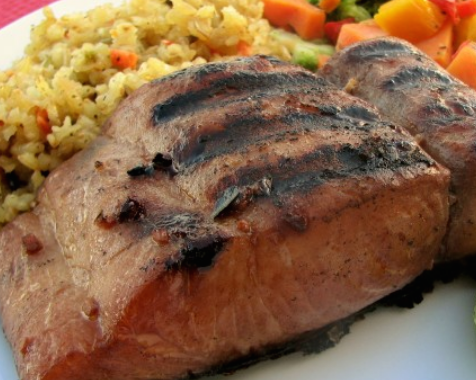 Orange Soy Mahi Mahi
Ingredients
• 4 medium mahi mahi fillets
• 2 tablespoons of olive oil
• 2 tablespoons of fresh minced ginger
• 1 tablespoon of minced garlic
• 1 tablespoon of fresh lime juice
• 1/4 cup of soy sauce
• 2 tablespoons of honey
• 2 tablespoons of dry red wine
• 1/8 teaspoon of cayenne pepper (optional)
• salt and pepper to taste
Directions
In a 1 gallon zipper bag, combine all ingredients except fish. Squish to combine. Add mahi and seal, refrigerate at least 2-4 hours.

Spray grill with non-stick cooking spray, the preheat to hot. Turn down to medium hot and cook fillets about 4 minutes on the first side, then turn and cook another 2-3 minutes, depending on thickness. Trust yourself on the grill, based on the thickness of your fillets. Grills are different temperatures so if you think it's done, it probably is.