Summer salads are what's for dinner these days at my house. I love the cool crunch! And when it's hot, nothing is better than grilling outside with a glass of wine and friends. Have you ever noticed though that most salads call for chicken as the protein? That is what caught my eye with this recipe. Pork tenderloin is lean and really quick to grill. And it's not chicken!!! So give this one a try and rest the chicken for this week.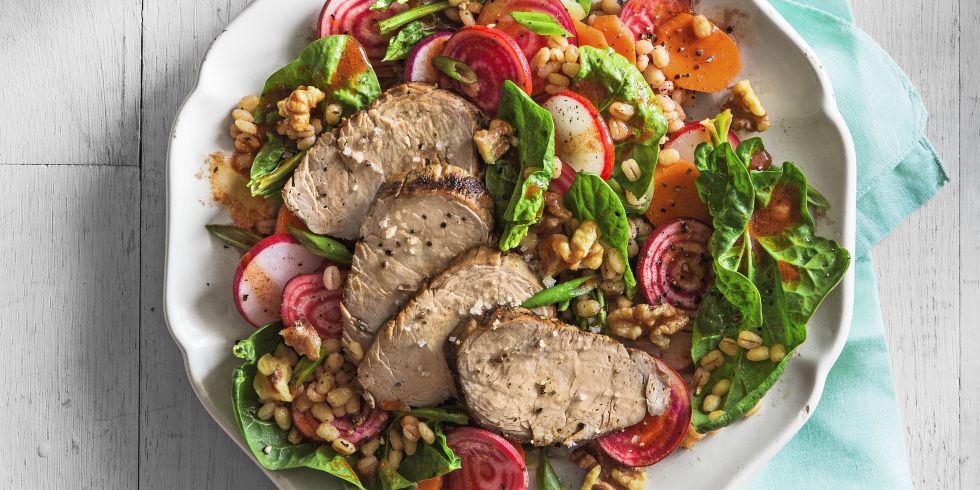 Barley, Spinach and Pork Tenderloin Salad
Ingredients
1 c. pearled barley

Kosher salt and freshly ground black pepper

1 1/4 lb. pork tenderloin

1 tbsp. olive oil

6 c. baby spinach

4 large radishes, thinly sliced

3 baby chioggia (striped) or yellow beets, peeled and thinly sliced

3 scallions, sliced

2 medium carrots, thinly sliced

1/2 c. chopped toasted walnuts

Smoky Paprika Vinaigrette
Directions
Cook barley in boiling salted water in a medium saucepan over medium-high heat until tender, 24 to 26 minutes. Drain and run under cold water until cool.

Preheat grill to medium-high. Rub pork with oil and season with 1 teaspoon each salt and pepper. Grill, covered, turning occasionally, until the internal temperature registers 145°F, 15 to 18 minutes. Remove to a plate and allow to rest 5 minutes before slicing.

Toss together spinach, radishes, beets, scallions, carrots, walnuts, barley, and vinaigrette in a bowl. Season with salt and pepper.

Serve with sliced pork.

To make the smoky paprika vinaigrette, whisk together ½ cup olive oil, ¼ cup red wine vinegar, 1 ½ tablespoons honey, 2 teaspoons Dijon mustard, and 1 ¼ teaspoons smoked paprika. Season with salt and freshly ground black pepper.