The feeling came over me on Tuesday…. cool, windy and wet. What did I need? A grilled cheese sandwich and tomato soup. It's the perfect fall lunch. And believe it or not, it's really easy to make. So never buy that can again. This should be your go to soup on any rainy day. Grill up a cheesy sandwich and dip away!
Creamy Tomato Soup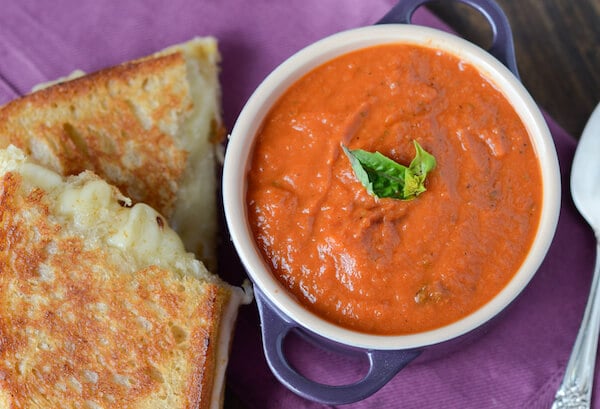 Ingredients:
2 tablespoons olive oil

4 garlic cloves, minced

1 large yellow onion, sliced

2 (28 oz) cans San Marzano peeled tomatoes

1 cup chicken stock (or vegetable stock)

2 tablespoons sugar

1/4 cup half and half

8 large fresh basil leaves, roughly chopped

1/4 teaspoon dried oregano

kosher salt and freshly ground black pepper, to taste
Directions:
In a heavy bottomed pot (or dutch oven), heat olive oil over medium-high heat. Add garlic and saute for 30 seconds – until fragrant. Add onion and cook, stirring as needed, until translucent – about 8 minutes.

Add San Marzano peeled tomatoes (juice and all), chicken stock, and sugar. Bring to a low simmer. Cook uncovered, for 12 minutes or until it has thickened.

Add the half and half, basil, oregano and season to taste with salt and pepper.

Using an immersion blender (or carefully transfer soup to a blender), puree soup until there are no large chunks left. Serve immediately with a grilled cheese or hunk of warm french bread!

Store in an airtight container in the fridge for up to 5 days or in the freezer for up to 3 months.

Recipe from The Novice Chef Blog. Read more at soup recipes at The Novice Chef.