It's getting darker and colder… and I don't know about you, but that makes me crave comfort food. And usually, that also means high calorie carbs. But it doesn't have to! I love this recipe for stuffed acorn squash. It's hot and filling, but coming in at under 400 calories, it also will help you fit into your holiday dress. Add a salad, and you have a great dinner. So pour a glass of wine while it bakes and get ready to enjoy an easy after work favorite.
Stuffed Acorn Squash with Sausage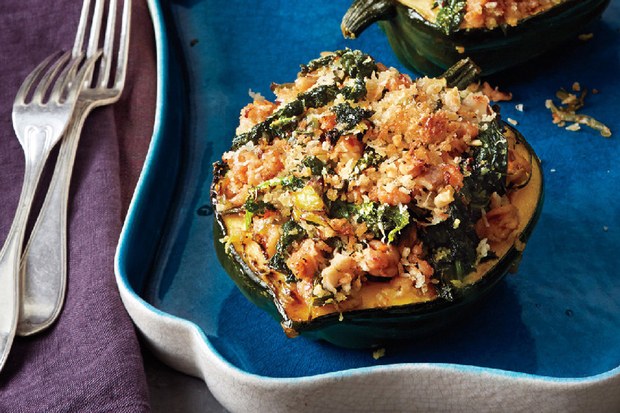 Ingredients
2 medium acorn squash, halved down the middle, seeds removed

1/2 teaspoon kosher salt

1/4 teaspoon freshly ground black pepper

Olive oil cooking spray

3 teaspoons olive oil, divided

8 ounces hot Italian turkey sausage, casings removed

1 large leek, white and light green parts only, halved and sliced

2 cloves garlic, finely chopped

4 cups tightly packed torn kale

1/3 cup reduced-sodium chicken broth

1/4 cup chopped walnuts

2 tablespoons grated fresh Parmesan

2 tablespoons panko breadcrumbs
Preparation
Heat oven to 375°. Cut a thin slice off round side of each squash half to create a stable base. Sprinkle with salt and pepper; coat with cooking spray. Place squash flesh side down on a baking sheet lined with aluminum foil; bake until golden and tender, 30 minutes. Remove from oven; flip squash and set aside. Heat broiler. In a large nonstick skillet over medium heat, heat 1 teaspoon oil. Add sausage; cook, breaking into coarse pieces, until brown, 6 minutes; transfer to a bowl. To same skillet, add remaining 2 teaspoons oil and leek; cook until leek is soft, 3 minutes. Add garlic; cook, 30 seconds. Add kale and toss; add broth. Cover and cook until kale is tender, 5 minutes; stir in sausage. Divide kale-sausage filling among squash. In a bowl, combine walnuts, Parmesan and panko; sprinkle evenly over squash bowls and coat with cooking spray. Broil until panko is golden, 2 minutes.
Per serving: 376 calories, 17 g fat, 4 g saturated fat, 47 g carbohydrate, 7 g fiber, 17 g protein