Welcome to the Lite 96.3 Pet of the Week.
If you are looking for a new furry family member for your home, please consider adopting from one of our area shelters. There are thousands of pets each year in Northern Michigan who lose their family for one reason or
another. Rescue is love!

The Bissell Pet Foundation is once again sponsoring Empty The Shelter Day on May 5th.
The goal to empty the shelters and the Bissell Pet Foundation will pay the adoption fee on that day. Area participating shelters include The Little Traverse Bay Humane Society, Cherryland Humane, Charlevoix Humane, Cheboygan Humane, Otsego County Animal Shelter, and the Huron Humane Shelter. Pre-adoption approval is required at many shelters. So please go to each shelter's website to see their requirements. And let's empty the shelters!
From the Little Traverse Bay Humane Shelter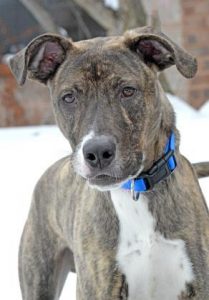 My name is Scout and I'm a handsome brindle coated Pit Bull Terrier mix. I'm three years old and very friendly although small children may be overwhelmed by my enthusiasm. I prefer female dogs over males, but an introduction would be a good idea before I move in. Cats are a no-no for me since I get overexcited when I see one. I want to mention that I come with a free training class when I'm adopted which will help refresh my good manners. And I'll need plenty of exercise to displace some of my energy, therefore an active home would suit me best. Of course a fenced in yard would help too. So if you're looking for a running or jogging companion; I'm the guy for you. Please come see me soon, the name's Scout.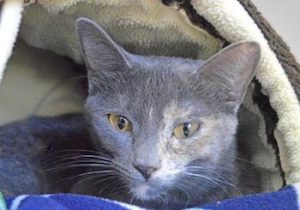 My family named me Leia when I was just a wee little thing and everyone was happy and there was no such thing as allergies. All was fine for two years and then the allergies came-theirs, not mine-and everything changed. So here I am; a two year old grey tortoiseshell cat in need of a new forever home. I'm a very sweet girl once I'm comfortable in my new surroundings, however you'll have to be patient before I get there. I prefer a home with no dogs and if possible no cats either. However, children are okay since I lived with a few in my previous home. And did I mention how much I love attention? Yep, once we're a family I can't get enough of it.
The LTBHS located on West Conway Road, between Petoskey and Harbor Springs is a no kill shelter that helps find  homes for over 500 dogs and cats each year. The LTBHS is completely funded thru donations. All pets adopted from LTBHS are neutered and have received a vet check and shots. For more information about all pets available for adoption or to donate, visit them online at www.ltbhs.com
Cherryland Humane Society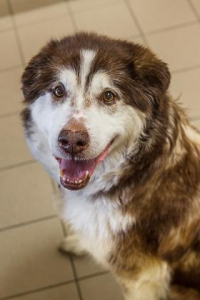 CHS' Pet of the week this week is Koda! A VERY beautiful, female, 12 year old Husky mix. She came to CHS a stray and in rough shape. Because she wasn't cared for well she has some flea bite dermatitis we are treating and therefore has some missing fur and rough skin. Koda is super friendly and loves to be around people. Lovable, relaxed, chill, sweet with an adorable booty wiggle. This gently lady knows how to sit and is good with kids and probably other animals.
Come in for a visit or you can check her out on our website, CherrylandHumane.org.
Cherryland Humane Society is a private, no kill animal shelter servicing Grand Traverse and Leelanau counties. We are an independent, 501-C, non profit organization. CHS is dependent on donations, fundraising activities, estates, planned giving, memorials and occasional grants for operation. Visit our available pets online at cherrylandhumane.org
AC PAWS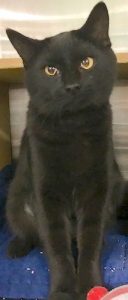 KIKO was rescued from a 40 cat hoarding situation.  She will be a
little skittish at first, but with a little one-on-one time, which she
never received in her previous place, she will be purring and become a loving, sweet girl. She is a very pretty kitty, small for her age, so
she will not be a big cat. She has the cutest face and will surely win
your heart when you meet her.  Kiko is a black short hair cat. She is
a year old. You can meet her at Petsmart in Traverse City. Or you can go to our website at
www.acpaw.org and  fill out a pre-adoption questionnaire.

AC PAW was founded in 1995 to give animals a second chance at life. The non-profit, no-kill shelter started as a safe haven for animals from abuse, hunger, disease and death. AC PAW has now rescued over 6,000 animals in the northern Michigan region and services the five-county Grand Traverse area.
Help From My Friends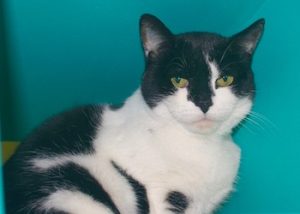 It's almost spring, and Blossom is ready to find her own place to grow and flourish. She is a bit shy, but that's because at heart she is a quiet lady who likes to get to know her people and surroundings and feel safe. Blossom is about 9 years old, spayed, up to date on shots and tested negative for FeLV/FIV
With a Little Help From My Friends' Pet Crisis Center assists Antrim County Animal Control by taking in primarily owner relinquished pets due to a crisis in the family. These animals came from loving homes who ran out of options and had to relinquish their pet to animal control. This is not a place for the public to bring in a pet but it is a place for the public to visit and adopt. Volunteers welcome.
For more information visit helpfrommyfriends.org or facebook.com/walhfmfpetcrisiscenter

From the Charlevoix Humane Society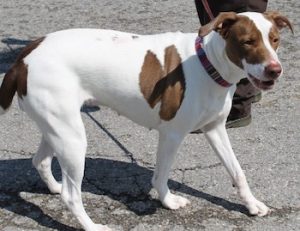 Stella is a new addition to the CAHS.   She is a  four year old female Retriever/Pit mix.  Stella is an owner surrender through no fault of her own.  Her owner was moving and could not take her. We think she is housetrained and surely loves to be around her human friends.
Stella is very alert and watches what is going on around her.  We think she would excel with training. Stella would do best in an active family with room to run.
The Charlevoix Human Society's mission is to practice and promote the principle that every life is precious. As such, we are committed to the highest principles of humane care and professional treatment of injured, ill, neglected or abused animals. For more information on pets that are available for adoption or to donate, visit the shelter at 614 Beardsley Street in Boyne City or online at www.charlevoixhumane.org
From Northern Michigan Animal Rescue Network
Hobbs is seven weeks old, has a gorgeous medium orange & white coat. Hobbs is ready to leave the nest in just a couple more weeks. Hobbs has a sweet personality and at the top of the charts for cuteness! He is playfull and full of kitten antics and mischief. For information about this adorable boy, call or message the NMARN rescue line 231-238-PAWS (7297).
Northern Michigan Animal Rescue Network is an all volunteer 5013C group dedicated to finding homes for homeless animals in Northern Michigan. Their animals live in foster homes and are loved everyday while they find the perfect forever homes for their dogs and cats. To learn more about NMARN, visit them online at www.nmarn.org. 
From AuSable Valley Animal Shelter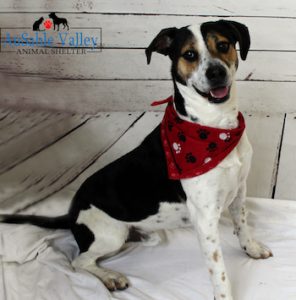 Elwood is 1 1/2 years old. He is a sensitive fellow who is looking for a quiet home and an experienced and calm owner. This guy is housebroken and handsome. We would prefer Elwood go to an adult only home with patient and knowledgeable owners. He is athletic so would enjoy some hiking or training to run along with a bicycle.
This handsome prince has been neutered and is up to date on his vaccinations. He just needs the right home. Please call the shelter at (989) 348-4117 or e-mail: avascares@yahoo.com
AuSable Valley Animal is a privately funded nonprofit animal shelter. We are a No Kill facility and stray center for dogs within Crawford county and a closed admission No Kill cat shelter. Our main goals are rehab and rehome, education, and animal welfare within our community.
Visit us online at www.ausablevalleyanimalshelter.org.
From Cheboygan County Humane Society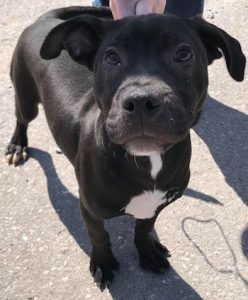 Shadow is a 4 month old pit/lab puppy looking for a forever home.  Shadow is friendly and will need some training as he is a puppy.  Shadow is here with his sister Oreo so he should be good with other animals.  Shadow would love for you to come out and take him for a walk so he can find his forever home.
Please visit their website at cheboyganhumanesociety.org. Or stop by the shelter at 1535 Hackleburg Road, Cheboygan. Call 231-238-8221 for more information. Shelter hours are Mon-Fri 9-4pm and Saturday noon-4pm.
PET OF THE WEEK IS BROUGHT TO YOU BY RUFF LIFE PET OUTFITTERS IN DOWNTOWN PETOSKEY.
LIKE THEM ON FACEBOOK FOR ALL THE RUFF LIFE NEWS.