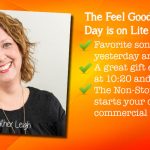 Lite 96.3 is where Northern Michigan comes to work.
Start your day at 9am with the Non-Stop 9:00… 60 minutes of your Feel Good Favorites commercial free!
And there's no other radio station Up North that rewards you every weekday just for listening. Join the Lite 96 Family and become part of our rewards club…. then listen for your name every weekday at 10:20 and 3:20 to win great gifts. No silly games to play. Just listen for your name, call us back within 9 minutes and 30 seconds when you hear it and you win. So easy!
The number to call when you hear your name is 800-968-9636.
Not a member of the Lite 96.3 Family yet? Click here and join today.
Then listen for your name to win too!
It's the Feel Good way to spend the workday!