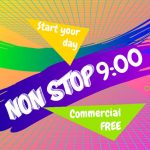 Easing into the workday… it's a lot easier when you do it with all your favorite Feel Good Songs.
At Lite 96.3… we make it easy with 60 minutes commercial free every weekday morning. Just before 9am, Tim Nixon lines up songs that make the workday just a little more fun. So fill up your coffee, turn on the radio and let's start the workday together.
Lite 96.3's Non-Stop 9:00…. commercial free just for you.