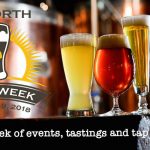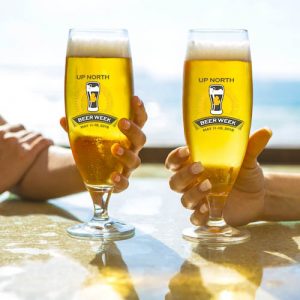 Northern Michigan has become a craft beer destination with some of the best breweries and taprooms in the country… right at our backdoor. Lite 96.3 is so excited to be part of a week dedicated to celebrating, tasting and sharing with friends… the love of beers and ciders.
Up North Beer Week is May 11-19th. To stay on top of all the events and tastings, make sure you LIKE the Up North Beer Week Facebook page.  And all the events, the VIP Passport and participating Beer Week stops are all at UpNorthBeerWeek.com.
Mark your calendar and plan your week…. there are so many fun events!
Get your VIP Passport full of discounts at each participating brewery and restaurant and a souvenir Pilsner Glass to toast the first Up North Beer Week. Save money and get the most out of your week with the VIP Passport. Click here to buy yours!
Participants include:
Petoskey Area
Petoskey Brewing
Mackinaw Trail Winery and Brewery
Burnt Marshmallow Brewing
The Noggin Room
Duffy's Garage and Grill
The Pub
Palette Bistro
Boyne City Area
Boyne City Block Party
Stiggs Brewing
Boyne City Tap Room
Cafe Sante
Lake Street Brewery
Harbor Springs Area
Tunnel Vision Brewery at Pond Hill Farm
Pierson's
Teddy Griffin's Road House
Gaylord/Wolverine
Sugar Bowl
Taproom 32
Thirsty Sturgeon
Mackinaw City
Biere De Mac Brew Works
Mackinac Island Brewing
Events:
Kick of Up North Beer Week at Biere De Mac Brew Works with Originals Night on Friday night, May 11th. It's great night of music featuring Sean Miller and Eliza Thorp. Music starts at 7pm and there is no cover charge. Enjoy a great Chef's special and 14 unique craft brews with $3 select pints. Get more info here.
Cafe Sante in Boyne City is offering "Belgian Style Beer Class" with Mr. Borgeld, Certified Cicerone, during happy hour 3-6pm on May 11, 12, 14 and 15.    Mr. Borgeld is one of the few Cicerones in Michigan and you'll find his classes fascinating.  Classes will offer Belgian beer history, brewing processes & ingredients, and tastings. Definitely a must for beer geeks and anyone who loves beer.  And during Three@3Happy Hour,  $3 classic cocktails and $3 happy hour snacks.  $1 off all other libations. (Not including Mother's Day)
It's time to play Beer Bingo at the all new Sugar Bowl in Gaylord. They're rolling out the old school game with some brew fun thrown in both weekends of Up North Beer Week. They'll play each Friday and Saturday starting at 7pm (May 11, 12, 18 and 19) Plus, they'll make dinner great with their 10oz prime rib with a beer for just $20.
Saturday May 12th, Tunnel Vision Brewery at Pond Hill Farm is rolling out kegs of their brand new summer cider Somerset Cider. Be the first to taste and enjoy a walk around the farm.
It's Sandwich Sunday at The Mitchell Street Pub on Sunday, May 13th. All day long, get their piled high French Dip with an Oberon for $9.95
May 14th is Pint and Paint Night at Duffy's Garage and Grill in Downtown Petoskey. Tickets are $30 in advance, $35 at the door. RSVP at 231-348-3663.
May 15th is Happy Hour All Day Long at Stigg's Brewery in Boyne City. Get $2 Stigg's pints all day long.
Wednesday May 16th is Wing Wednesday at Teddy Griffin's Roadhouse. They're celebrating with a pint of their exclusive Petoskey Brewing Big Head Belgium White Ale and 8 yummy wings for only $13.50 all night long.
Wednesday, May 16th is also Beer and Pretzel Night. In Harbor Springs, Pierson's will be serving Pierson's exclusive Parallel Beer all night long with their delicious soft pretzels and beer cheese for $8.​
Thursday, May 17th is the Boyne City Block Party. 20 craft beer, food and lots of fun to kick off the National Morel Mushroom Festival. The Galactic Sherpas will play, food trucks and lots of beer choice make this a great night. The block party is in the 100 block of South Lake Street from 5-9pm. Admission is $18 and includes a souvenir cup and 5 taste tickets. Get more info here.​
May 17th is Beers and Balls at The Thirsty Sturgeon in Wolverine. Chow down on their fabulous balls… Ruben and Buffalo for half off. Add $.75 wings and $2 drafts for a night of yum.
Join Burnt Marshmallow Brewery and the Walloon Lake Inn on Thursday, May 17th for a beer pairing dinner. This dinner will pair the delightful cuisine of the Walloon Lake Inn with three different brews…"Maybe I'll Catch Fire" Ghost Pepper Citrus", "S'more" Burnt Marshmallow Porter" and "Lavender Hill" Lemon Shandy. See the menu here. Make your reservations for this dinner by calling 231.535.2999.
​Thursday, May 17th is Whole House Happy Hour at Palette Bistro. Celebrate your favorite beer and food pairings with $1 off draught and bottled beer paired with 40% off all small plates. Taste and share with your friends from 4-6:30pm.​
May 19 is Customer Appreciation Day at Mackinaw Trail Winery and Brewery. Celebrate the day with live music, select $3 pints, great food and 20% off all beers and ciders.