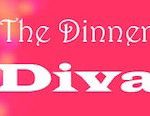 I'm always searching for a way to eat more fish. Salmon is so good for you and is great for grilling. But when I found this pasta recipe, I had to try it. Easy and really delish… hope you love it too!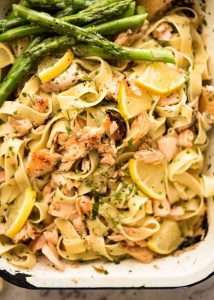 Baked Lemon Butter Salmon Pasta
A fabulous easy dinner – oven roasted lemon butter salmon tossed through pasta and finished with fresh herbs. Fuss free, restaurant quality meal!
Ingredients:
Salmon
1 pound salmon (skinless and boneless – one piece or multiple pieces)
2 garlic cloves, finely sliced
4 tablespoons unsalted butter
1 tablespoon olive oil
3 tablespoons lemon juice
Salt and pepper
Pasta
1/2 lb fettuccine or other pasta of choice (cooked per packet directions)
1/4 cup finely chopped dill + parsley (combination, or just one of them)*
Finishing
More lemon
Salt and pepper
Directions:
Preheat oven to 390F.
Place salmon in a small baking dish. Sprinkle both sides with salt and pepper.
Top with butter and garlic, drizzle over lemon and olive oil.
Bake for 15 minutes or until salmon is just cooked through.
Cool for a few minutes, then flake into large chunks – it will break up more when tossing.
Add pasta and herbs into the pan. Toss gently to coat pasta with pan juices.
Add more lemon if desired. Season with salt and pepper.
Serve immediately! Traditionally, seafood pastas are not garnished with parmesan but you can do so if you wish.
Recipe courtesy of spendwithpennies.com