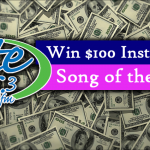 Lite 96.3's Song of the Day is back…. and we'd love to put $100 in your pocket. It's a little ME money so you can pamper yourself with something you want or need. And it's so simple to win.
Just listen to Tim Nixon every weekday at 8:50. Right before the Non-Stop 9:00, he'll tell you that day's Song of the Day and he'll tell you want hour it's going to play.
When you hear the song in that hour, just be caller 10 at 800-968-9636 and you'll win $100!
It might not change your life… but it sure will make your day!
Making the workday even better with Feel Good cash… from your Up North work station, Lite 96.3.