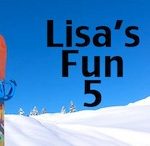 Come in out of the cold this weekend and browse through ideas for summer at your home in Traverse City. You can get in a run with a splash of color in Gaylord, enjoy a magical night on the Old Mission Peninsula, or jazz up your Saturday in Harbor Springs! Then, chocolate lovers can enjoy a sweet Sunday at the City Opera House.
Up North Lake and Cottage Show, Friday, April 13th through Sunday April 15th, Howe Arena, GT County Civic Center
This event features more than 100 exhibitors representing construction, remodeling, kitchen & bath, interior design, furniture, floor covering, home services and more! Come browse and find inspiration for summer in the backyard or your next remodeling project. Hours are Friday, 3-8pm, Saturday 10am-6pm, and Sunday 10am-4pm. Learn more at http://www.tccottageshow.com/
Gaylord's 4th annual 5k Color Tour, Saturday, April 14th, 9:30am, Downtown Gaylord Pavilion
This race is to benefit the Otsego County United Way T.A.C.K.L.E. Cancer fund. Registration is $35 for adults 18 and over, 18 and under $30. Learn more at 5kcolortour.weebly.com
Magic on the Vine, Saturday, April 14th, 7pm, Chateau Grand Traverse, Old Mission Peninsula
Come enjoy a night of wine, appetizers, and entertainment featuring magician and actor Ben Whiting. This event is for ages 21 and up…tickets are $30. Learn more at magiconthevine.com
Wes "Warmdaddy" Anderson, Saturday, April 14th, 7pm, Harbor Springs High School Performing Arts Center
This jazz saxophonist performs with his quintet, following a short performance by the Harbor Springs High School Jazz Band. Reserved seats are $25, all others, free. Call 231-5264829.
9th annual TC Chocolate Festival, Sunday, April 15th, 11:30am-2pm, and 2:30-5pm
Stroll through the Traverse City Opera House sampling chocolate delights in all forms, while enjoying live music from Jim Hawley. There will also be drawings for door prizes. Tickets are $15.50 for adults, $8.50 for children 12 and under. Learn more at facebook.com/tcchocolatefestival