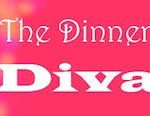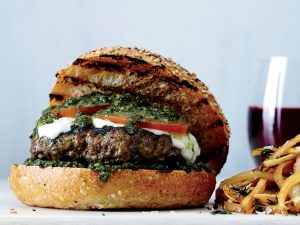 It's burger season. There are so many ways to make burgers… top burgers and grill burgers, you can go all summer long and have lots of variety. But I have to say, this is one of my favorites. By working some pesto into the beef before cooking, you get a burger full of flavor. So good! And it goes great with a cold beer or chilled rose'.
Pesto Burger
Ingredients
2 cups basil leaves
1/4 cup salted roasted almonds
1 garlic clove
1/2 cup extra-virgin olive oil, plus more for brushing
1/4 cup grated Pecorino-Romano cheese
Salt
Freshly ground pepper
1 pound ground beef chuck
1 pound ground beef sirloin
8 ounces fresh mozzarella, cut into 6 slices
6 brioche hamburger buns, split
2 tomatoes, sliced
Directions
Step 1
In a food processor, combine the basil with the almonds and garlic and pulse until the almonds are finely chopped. Add the 1/2 cup of olive oil and process to a paste. Add the grated Pecorino and pulse to combine. Season the pesto with salt and pepper. You should have about 1 cup. You can always use store bought pesto if you don't have the time or desire to make your own.
Step 2
Transfer 1/4 cup of the pesto to a bowl. Add the ground chuck and ground sirloin and a pinch of salt and gently knead to blend. Form the mixture into six 4-inch patties, about 3/4 inch thick. Brush the burger patties lightly with olive oil.
Step 3
Light a grill and oil the grates. Grill the burgers over moderately high heat for 3 minutes. Flip the burgers, top them with the mozzarella slices and close the grill. Cook for 3 minutes longer for medium-rare burgers. Grill the buns until lightly toasted, then spread some of the pesto on the bottoms. Top with the burgers, the tomatoes and the remaining pesto. Close the burgers and serve right away.
Make Ahead
The pesto can be refrigerated for up to 3 days. Bring to room temperature before proceeding.
If you are buying pesto, there are great options available at the farmers market. If you're buying at the grocery store, the fresh, chilled pesto is much better than jarred.