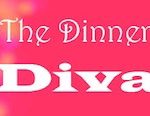 It's been so hot… cooking just does not sound like something I want to do. Nothing hot! So, I recently ran across this yummy recipe for a Tomato Watermelon Salad with Ricotta. Oh my, was it good. And now, it's going to by my go to dish for summer parties. Easy, cool and just different enough that you'll find your guests loving it. Everything is available at the farmers market now… so enjoy the local goodness.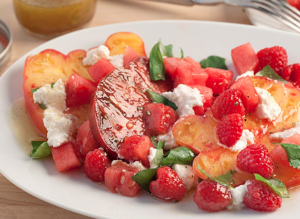 Tomato Watermelon Salad with Ricotta
Courtesy of Abby Reisner
Ingredients
Raspberry Vinaigrette
2 tablespoons raspberry vinegar
1½ teaspoons honey
½ teaspoon very finely chopped tarragon
½ teaspoon kosher salt
¼ teaspoon freshly ground pepper
¼ cup extra-virgin olive oil
Salad
2 cups ½-inch watermelon cubes
½ cup fresh raspberries
2 heirloom tomatoes, cored and sliced crosswise into ½-inch rounds
¼ cup ricotta cheese
¼ cup roughly chopped fresh basil leaves
Directions
1. Make the vinaigrette: In a medium bowl, add the vinegar and honey and whisk until combined. Whisk in the tarragon, salt and pepper; then, while whisking, slowly add the olive oil in a steady stream.
2. Assemble the salad. To a large bowl, add the watermelon, raspberries and raspberry vinaigrette, gently tossing to combine. Place the tomato slices on a platter and top with the watermelon-raspberry mixture. Add dollops of the ricotta cheese, sprinkle with the chopped basil and serve.