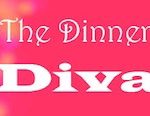 I stopped by the farm stand over the weekend and bought a basket of peaches. The aroma was summery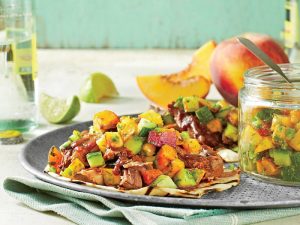 and they were so juicy, I had to stand over the kitchen sink to eat them. Just delicious. Grocery store peaches can never taste like a fresh peach off the tree. Besides just eating them and cobbler, what else can you do with peaches? This summer salsa is great on the tacos, but it's also delish on fish. So tacos one night and grilled salmon the next… you're going to love this one!
How to Make It
Step 1
Place bacon and onion in a 6- to 8-qt. slow cooker. Stir together salt and pepper; sprinkle over all sides of brisket. Place brisket in slow cooker.
Step 2
Process broth and next 7 ingredients in a blender for 30 seconds or until smooth; pour mixture over brisket. Cover and cook on LOW 7 hours or until brisket is fork-tender. Transfer brisket to a 9- x 13-inch baking dish; cover with aluminum foil to keep warm.
Step 3
Pour sauce through a fine wire-mesh strainer into a medium saucepan, and cook over medium-high heat, stirring occasionally, 15 to 20 minutes or until reduced to 1/3 cup. Stir in vinegar.
Step 4
Coarsely chop brisket; spoon over warm tortillas. Drizzle with sauce, and top with Crunchy Summer Salsa.
Summer Salsa
How to Make It
Stir together peaches, cucumber, jalapeño pepper, minced garlic, cilantro, lime juice, and salt in a small bowl.