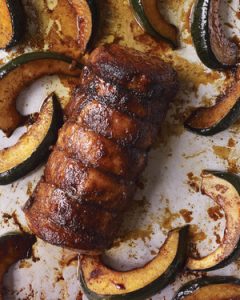 One of my favorite ways to spend the weekend is to make dinner… one that heats up the kitchen and makes the whole house smell delish. This pork roast does just that. The spices are aromatic and just taste like fall. It's the perfect way to sit down for dinner and hear what the family has been up to.
Spiced Pork Loin
Ingredients
4 tablespoons extra-virgin olive oil
1/4 cup packed light-brown sugar
1/2 teaspoon ancho chile powder or other single chile powder
1/4 teaspoon ground cinnamon
1/2 teaspoon ground cumin
2 pounds acorn squash, seeded and cut into 1-inch-thick wedges
1 boneless pork loin (3 pounds), tied
Coarse salt and ground pepper
Directions
1. Preheat oven to 425 degrees. In a large bowl, stir together 3 tablespoons oil, sugar, chile powder, cinnamon, cumin, and 2 tablespoons water. Add squash and toss to coat. Set aside.
2. Generously season pork with salt and pepper. Heat a cast-iron skillet or other heavy pan over high. Add 1 tablespoon oil and swirl to coat. Cook pork on all sides until deep golden brown, about 10 minutes total. Place pork on a rimmed baking sheet; pour oil from skillet onto sheet and spread evenly.
3. Arrange squash around pork. Brush pork with sugar mixture from bowl. Bake until pork is cooked through (an instant-read thermometer inserted in center should register 135 degrees), 40 to 45 minutes, brushing meat with sugar mixture and turning squash every 15 minutes. Tent pork with foil and let rest 10 minutes before slicing.
Ask your butcher to tie the roast with twine at 1-inch intervals so that it cooks evenly (or do it yourself).
Recipe courtesy Martha Stewart Living