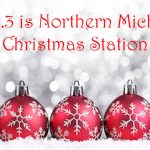 It's that magical season… the Christmas Season and Lite 96.3 has the soundtrack to all of your holiday fun and family time. We hope you enjoy the holiday music and all the other merriment we have planned.
The Hometown Holiday Christmas Workday Bonus is back with your chance to pick a gift from under our tree from local hometown favorites like Sturgeon River Pottery, The Original Pancake House, The Hanni Gallery and the Thirsty Sturgeon.
And every daily winner is qualified for the Hometown Holiday grand prize…. with something for everyone in the family. They'll love a day at Avalanche Bay, dinner from the Harbor Springs IGA, a cooking class for four from Fustini's, snowshoes from BearCub Outfitters, a Chilly Dog Sweater from Ruff Life Pet Outfitters…. and $500 in Christmas Cash from St Francis Federal Credit Union.
To win…. make sure you're listening to Lite 96.3 every weekday at 10:20 and 3:20 for your name. When you hear it, call us within 9 minutes and 63 seconds and you get to pick a gift from under the tree. The number to call when you hear your name is 800-968-9636.
And if we don't have your name yet, join the Lite 96 Family today so you can win too!
It's the happiest of an Up North Christmas all season long on your Christmas Station, Lite 96.3.