If you are looking for a new furry family member for your home, please consider adopting from one of our area shelters. There are thousands of pets each year in Northern Michigan who lose their family for one reason or another. Rescue is love!
From the Little Traverse Bay Humane Shelter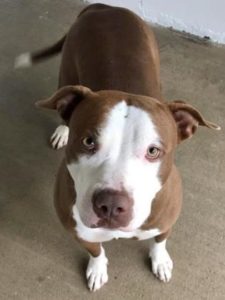 Meet Clare. Clare is an American Pit Bull/Mix who is just over five years old. She would be a great addition for a family that has kids that are over eight years old because of her size. She pays a lot of attention cats, maybe more than she should. She loves to have fun and play. And with a face like her's, how could you not want to bring her home to be a part of your family. For more information on how you could make Clare your fur-ever companion, contact the Little Traverse Bay Humane Society.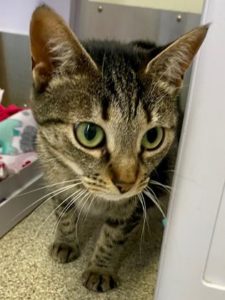 Hi, I'm Renae and I'm a cute and petite little thing. I'm very independent and keep to myself for the most part but a couple times a day I come up to people and want to be pet and get lots of love but I still get a little bit nervous about being picked up which the staff is trying to work on with me. I'm really sweet and would love a nice home where I can have my own little spot to hang out in and be able to take my time adjusting to a new environment. I'd love for you to come in and meet me.
The LTBHS located on West Conway Road, between Petoskey and Harbor Springs is a no kill shelter that helps find homes for over 500 dogs and cats each year. The LTBHS is completely funded thru donations. All pets adopted from LTBHS are neutered and have received a vet check and shots. For more information about all pets available for adoption or to donate, visit them online at www.ltbhs.com

Cherryland Humane Society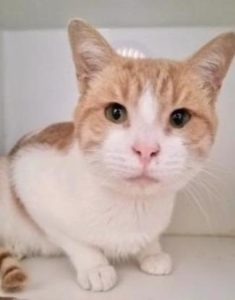 Name: Rick
Info: male, 2 years
Description: I'm pretty shy, but once I know that I can trust you I'm a sweet ball of love! I'll lean right into your hand and soak up all the love with my eyes closed. I love treats, they're so yummy! I'd love a home where I can get all the head rubs in the world and munch on treats all day long. Please ask staff about my special medical needs, I am FELV positive.
Upcoming event: Oct 22nd from 5-8pm
Thirsty Fish is hosting a donation drive for CHS. Bring in an item off of CHS wish list and get 15% off of your order!! The event will be outside (weather pending) and kicking off a great menu for a great cause!!
Cherryland Humane Society is a private, no kill animal shelter servicing Grand Traverse and Leelanau counties. We are an independent, 501-C, non profit organization. CHS is dependent on donations, fundraising activities, estates, planned giving, memorials and occasional grants for operation. Visit our available pets online at cherrylandhumane.org
AC PAWS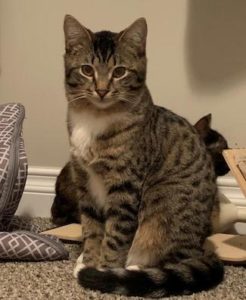 As we continue to ensure the wellness and safety of the community and our AC PAW volunteers, the cattery at PetSmart will remain closed. However, AC PAW is now doing carefully structured and safe adoptions by appointment only.  Visit our website at
www.acpaw.org
FRANKLIN was live trapped as part of a large feral colony on Old Mission Peninsula in October of 2019. He has come a long way
in trusting people since then and is a very sweet, but sassy boy. He is a very chatty cat and will chirp whenever he is petted.
He has unique spotted markings and a gorgeous sleek coat. He likes to be petted, but is not interested in being picked up or held.
He loves other cats and loves to play with any ball toys. He is very attached to having a friend, so he would love to have a buddy in his new home. He will get nervous and jumpy when picked up so no small children in the home would be best. Franklin is a very handsome tabby with white paws and chest. He is 1 1/2 years old.
AC PAW was founded in 1995 to give animals a second chance at life. The non-profit, no-kill shelter started as a safe haven for animals from abuse, hunger, disease and death. AC PAW has now rescued over 6,000 animals in the northern Michigan region and services the five-county Grand Traverse area.
From the Charlevoix Humane Society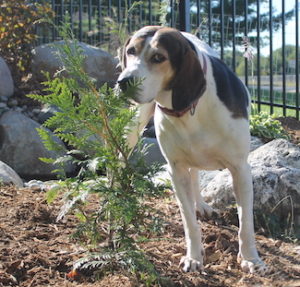 Meet Stella "Sadie".  She is our nine year old female hound mix.  She has two names because she has already had two lives.  We adopted her out about 8 years ago, but the owners could no longer keep her through no fault of her own, so they gave her back to us.  Stella "Sadie" lived in a home and was a wonderful companion to her family.  Now that she is older we are hoping we can find that perfect home for her to live out her retirement years.
The Charlevoix Human Society's mission is to practice and promote the principle that every life is precious. As such, we are committed to the highest principles of humane care and professional treatment of injured, ill, neglected or abused animals. For more information on pets that are available for adoption or to donate, visit the shelter at 614 Beardsley Street in Boyne City or online at
www.charlevoixhumane.org
From AuSable Valley Animal Shelter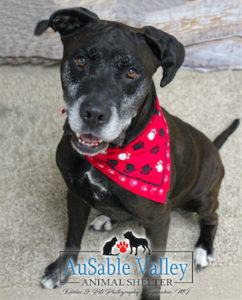 My name is Rockey and I am a very handsome 9 year old Lab mix. Who's a good boy? It's me! I am the good boy! I am housebroken which means I know that I potty outside and that is a very good thing! I would like to be the center of attention and I'm not thrilled about sharing that attention with another dog so I would do best if my new home doesn't have any other dogs. Besides, once you meet me, you are guaranteed to fall in love with me and will. Ever want another dog because I am truly the best! Also, I'm not a fan of cats so a cat-free house is a must. I do love my toys and people, especially you! That's why I think you and I are a perfect match! With all my love and cuteness wont you please adopt me. You will not be sorry!
While our shelter is closed to the public, we are conducting no-contact adoptions! As always, if you have any questions about our pets available for adoption please call the shelter at (989) 348-4117 and speak with the shelter staff.
AuSable Valley Animal is a privately funded nonprofit animal shelter. We are a No Kill facility and stray center for dogs within Crawford county and a closed admission No Kill cat shelter. Our main goals are rehab and rehome, education, and animal welfare within our community.
Visit us online at www.ausablevalleyanimalshelter.org.
From Cheboygan County Humane Society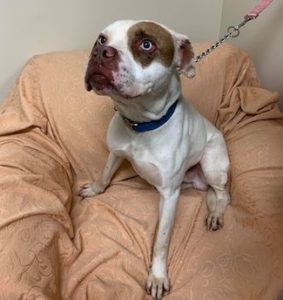 Merlin is a 2 year old Pit mix. He is neutered, chipped and UTD on shots, adoption fee $90.00. Merlin came to us as a stray so we do not know his temperament with other dogs, cats or kids. We did happen to notice that when he is around another dominant dog, he can be a little aggressive towards that dog, so he may be picky on what dogs he likes and gets along with. Merlin seems to be mostly house trained, walks pretty good on leash, unsure how he takes to being in a crate. Merlin is very friendly and likes to be around people. He will walk for long periods of time and loves treats! And just look at those eyes!
Please visit their website at cheboyganhumanesociety.org. Or stop by the shelter at 1535 Hackleburg Road, Cheboygan. Call 231-238-8221 for more information. Shelter hours are Mon-Fri 9-4pm and Saturday noon-4pm.
Pet of the Week is brought to you by Grand Traverse Carpet Cleaners. Clean up all your pet messes and make your home smell and look great. Serving Northern Michigan from Cadillac to Petoskey, Charlevoix to Traverse City. Make an appointment here.