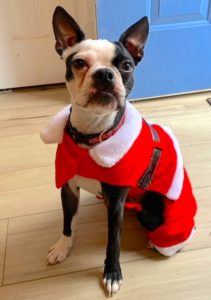 I was reading the other day that over 60% of people get their dogs Christmas gifts. And all I could think of was… only 60%???  I always get my dogs gifts including the annual stuffed toy that I know will only last a few minutes. But they love those few minutes of destruction more than anything. Santa knows them well.
Other great gift ideas for your dogs or maybe a dog in your life?
Subscription Boxes
Boxes like Bark Box are the gift that gives back all year long. They are full of toys and treats specifically chosen for your breed of dog. And believe me, it only takes a couple of months until they know that the box is for them.
Chewy Things
Whenever I need a moment of piece, I get out the chewy things. From cow hooves to bully sticks, they will spend hours chewing away. Stay away from anything rawhide though. Not only are the a choking hazard but they are cleaned in chemicals. Most come from China and have been traced to many poisonings.
Licking Mats
I was a little concerned these were a waste of money, but smear on the peanut butter and they are consumed. So they don't notice I'm trimming their nails. Another easy way to keep them busy.
Puzzle Games
Dogs get bored too. Puzzle games are the perfect way to keep them engaged and thinking. Many have doors or compartments to hide treats and the dogs work to release the treats. Great mental exercise.
Balls
If you have a dog obsessed with balls, leave the tennis balls behind and go with racquetballs. They bounce higher and are almost impossible to break. They are the primo dog ball.
Comfy Beds
Every dog loves a comfy bed. From a bed with bolsters for a bigger dog to a nesting bed for small dogs or dogs that are always cold, a new bed can make any dog happy.
A Warm Winter Coat
Being up north, dogs need coats if they are going to enjoy a winter romp. From active fleece to a puffer jacket, there are so many options. I have found coats that pull on instead of zip stay on longer and last forever. Bailey has such short hair and no fat, so he lives in his coat, inside and out as soon as the temp drops below 30. He even has some pjs.
A Plush Throw
My dogs love to burrow under the covers. They sleep there at night and when napping on their beds, love to have a throw to cover up with. It's all about staying warm.
I'm so excited for my first Christmas with Bailey. He loves toys so I'm sure we'll have a big doggie Christmas Day. The unfortunate thing I've found is…his puppy energy makes it almost impossible for me to have a tree this year. He can jump over 4' in the air, so nothing is safe. And the balls on a tree look just like the ball he plays with. So, I decorated outside in a big way and will hide the gifts in a spare room. They are only puppies for a short time…. Right???