If you are looking for a new furry family member for your home, please consider adopting from one of our area shelters. There are thousands of pets each year in Northern Michigan who lose their family for one reason or another. Rescue is love!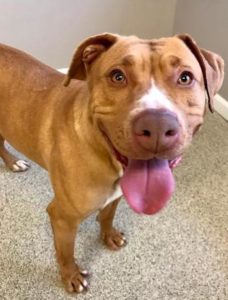 Hello, my name is Honeydew and I'm a two and a half year old Lab/Pit Bull mix. I traveled quite a distance in order to find a forever home. Things were quite crowded back where I came from in Arkansas, so it's nice to have some room to roam. Sure, it's a bit chilly here but I don't mind, besides isn't that why they invented doggy coats? I also love to go for walks and I walk very well on a leash, I prefer to stay right next to people when we go for a stroll! As far as the perfect home for me goes; I need a cat free environment and prefer no small children as I tend to jump up when I get excited. I can be a bit picky about my doggy companions, so a meet and greet is a must. Maybe a submissive male would suit me best? Otherwise, I'm a very people friendly girl, but would like a family that is willing to teach me how to live in a home again and show me lots of love and affection.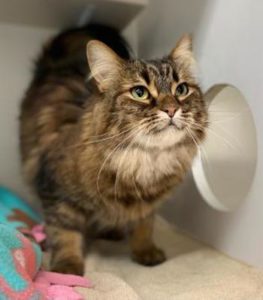 Hello I'm Arya, I'm a beautiful long haired tabby and I have just a few special needs from my new forever family. I would need a home that doesn't have any young children as I tend to get a bit jealous and don't like to share attention. So a family with just adults or older children would be best as well as no dogs please and male cats only. I basically just want to be the queen of the household and be treated as such. When you're as pretty as I am that's just the way it should be 🙂 If you can meet these needs of mine then I'd love to be the new addition to your household. Fill out an application today and I hope to meet you soon.
The LTBHS located on West Conway Road, between Petoskey and Harbor Springs is a no kill shelter that helps find homes for over 500 dogs and cats each year. The LTBHS is completely funded thru donations. All pets adopted from LTBHS are neutered and have received a vet check and shots. For more information about all pets available for adoption or to donate, visit them online at www.ltbhs.com

Cherryland Humane Society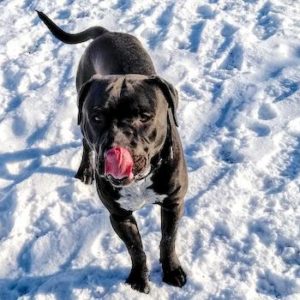 Name: Coal
Info: Male, 1 year, Pittie Mix
Days At the Shelter: 30+
History: Stray
Description: Anyone looking for the best silly boy around? Coal is your man! Coal is full of fun, playful energy, big smiles, and booty rubs. His smile will melt your heart and his goofy personality will lock you in. Looking out windows, sniffing trees, and hiking through the woods are a few of his favorite things. Coal greets everyone he meets with a happy tail and wiggly bum, ready to meet this good boy?!
Cherryland Humane Society is a private, no kill animal shelter servicing Grand Traverse and Leelanau counties. We are an independent, 501-C, non profit organization. CHS is dependent on donations, fundraising activities, estates, planned giving, memorials and occasional grants for operation. Visit our available pets online at cherrylandhumane.org
AC PAWS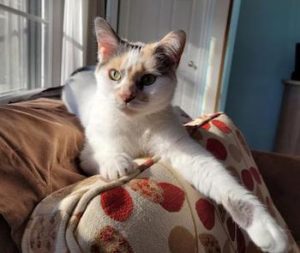 As we continue to ensure the wellness and safety of the community and our AC PAW volunteers, the cattery at PetSmart will remain closed. However, AC PAW is now doing carefully structured and safe adoptions by appointment only.  Visit our website at
www.acpaw.org
PAISLEY was found at about 6 months old on the side of the road, crying, cold, starving and with an upper respiratory infection. Fortunately she was found by a loving passerby and taken in to heal and grow.
Paisley is sweet and curious as are most young cats. She is unique and special because she has very limited vision and hearing. She has an eye disease called Progressive Retinal Atrophy (PRA). She can see light, sometimes large objects, but no movement. She will be completely blind at a young age. She is currently only one year old.  She would be fine in a home with another pet as long as it is very calm and friendly towards her. We think she would benefit from a cat companion. Her foster would not recommend a home with young children.
Paisley will need a home that will allow her to slowly acclimate to her new surroundings.  She is a very special girl that will need a very special person willing to give her time and have the patience to work with her. She has so much love to give if just given this second chance.
If you are interested in adopting, go to 
www.acpaw.org
and fill out a pre-adoption questionnaire. An AC PAW volunteer will contact you.
AC PAW was founded in 1995 to give animals a second chance at life. The non-profit, no-kill shelter started as a safe haven for animals from abuse, hunger, disease and death. AC PAW has now rescued over 6,000 animals in the northern Michigan region and services the five-county Grand Traverse area.
From the Charlevoix Humane Society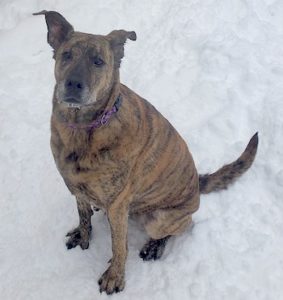 This is Mira, a beautiful brindled coonhound. Mira is still a very active girl at 4 years old. Mira has shown some barrier aggression but it appears to be all bark and no bite. Outside of her kennel she is a typical hound, nose to the ground and oblivious to other distractions. Mira would best suited to a quiet home and individual attention.
The Charlevoix Human Society's mission is to practice and promote the principle that every life is precious. As such, we are committed to the highest principles of humane care and professional treatment of injured, ill, neglected or abused animals. For more information on pets that are available for adoption or to donate, visit the shelter at 614 Beardsley Street in Boyne City or online at
www.charlevoixhumane.org
From AuSable Valley Animal Shelter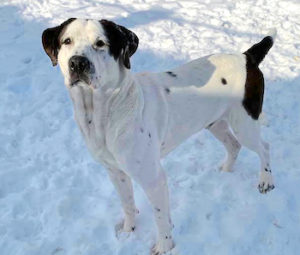 Moo is a wonderful, even-tempered dog that would fit in great with any family! This unique blend of boxer, beagle, and labrador is about a year old…give or take a few months. But no matter what he's made of, sweet Moo loves people and seems to get along well with other dogs. He's housebroken, loves soft beds and good treats, and will make an outstanding addition to any loving home. Moo's been neutered, vaccinated, and micro-chipped! Make an appointment to meet Moo today at AuSable Valley Animal Shelter!
If you are interested in adopting Moo, please contact the shelter via EMAIL ONLY (avascares2@gmail.com) to request an application and set up an appointment.
AuSable Valley Animal is a privately funded nonprofit animal shelter. We are a No Kill facility and stray center for dogs within Crawford county and a closed admission No Kill cat shelter. Our main goals are rehab and rehome, education, and animal welfare within our community.
Visit us online at www.ausablevalleyanimalshelter.org.
From Cheboygan County Humane Society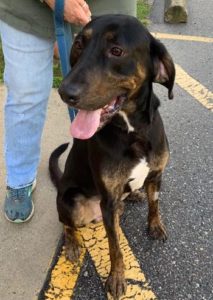 Buckshot is a 3 year old Louisiana Leopard Cur. He is neutered, chipped and UTD on shots, no adoption fee at this time. (Cheboygan County License fee applicable) Buckshot will need to be the ONLY pet in his new home, as he is NOT good with other dogs, cats or kids. Previous to coming to the shelter, Buckshot was strictly an outdoor dog, so he is not trained in any area, but is improving his leash skills with every walk he goes on. Buckshot is very high energy and would love a nice fenced yard to run and play in, or be in a very active home where he would be exercised daily.
Please visit their website at cheboyganhumanesociety.org. Or stop by the shelter at 1535 Hackleburg Road, Cheboygan. Call 231-238-8221 for more information. Shelter hours are Mon-Fri 9-4pm and Saturday noon-4pm.