If you are looking for a new furry family member for your home, please consider adopting from one of our area shelters. There are thousands of pets each year in Northern Michigan who lose their family for one reason or another. Rescue is love!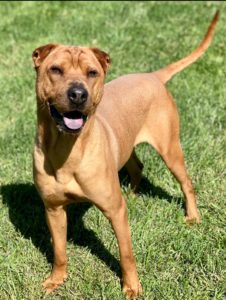 Hi friends, I'm Dumpling and I'm looking for my new forever home. I'm quite the curious creature and like to spend my days filled with activity so if you have an active lifestyle like I like to lead then I think we would get along great. I would love to have a human companion to explore all over the beautiful Northern Michigan hiking trails and beaches with. I can picture it now, me and my new family spending all day together getting to smells all sorts of new smells then enjoying a sunset on a sandy beach somewhere. I can hardly wait. If you do have other canine companions already at home I would love to meet them first to be sure we would be a good fit. I don't seem to mind cats I just sort of ignored them when I met one here at the shelter. If I sound like I would make a good addition to your life please fill out an application and come and meet me soon. Once again the names Dumpling 🙂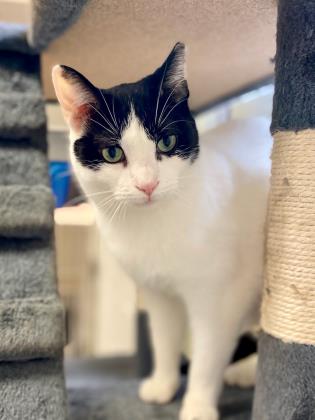 Dudley here, and I know what you're thinking, "does he always do right?'" But of course! Or at least I like to think so. I'm a very intelligent cat that's only a year and a half year old. I'm a good looking dude too-white with black markings. I appear to be shy when I first meet strangers, but that false front doesn't last long-I'm purring before you know it. I'm a social guy when it comes to other cats, or at least with other calm cats like me. The more dominant personalities are intimidating to me and I try to stay out of their way. I'm not sure about dogs or small children, I guess you'll have to give me a try to see how I do. Please don't make me wait long for your visit. My name is Dudley and I know that I'm the right guy for you.
The LTBHS located on West Conway Road, between Petoskey and Harbor Springs is a no kill shelter that helps find homes for over 500 dogs and cats each year. The LTBHS is completely funded thru donations. All pets adopted from LTBHS are neutered and have received a vet check and shots. For more information about all pets available for adoption or to donate, visit them online at www.ltbhs.com

Cherryland Humane Society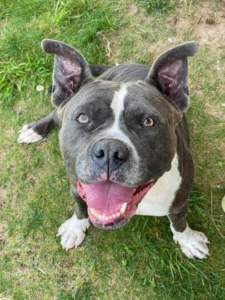 Name: Camilla
Info: 
Female, Pit Bull Mix, 5 Years old
Days At the Shelter: 230 Days
History:  Stray
Description: This sweet girl is currently being treated for a skin condition and is improving with baths and medication. While Camilla heals and grows her beautiful coat back she would love to spent time in a home! Camilla would do best in a household without other pets and with someone who can provide the care she needs while under treatment. (Providing medication and giving weekly baths.)
You will fall in love with this sweet, hyper, love bug, and playful pup. Her exuberant positivity will brighten your day! Her cuddles and smiles are the best thing ever!
 Cherryland Humane Society is a private, no kill animal shelter servicing Grand Traverse and Leelanau counties. We are an independent, 501-C, non profit organization. CHS is dependent on donations, fundraising activities, estates, planned giving, memorials and occasional grants for operation. Visit our available pets online at cherrylandhumane.org
AC PAWS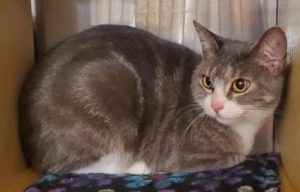 CALLIE is a beautiful 10-month old tabby with swirls instead of stripes. Surrendered with other cats from a hoarding situation , she'd had a litter of kittens when she was just a kitten herself. Her kittens have all been
adopted and now that she's spayed, it's her turn to be the baby. She is very friendly with people and loves to be petted and to give head bumps. While Callie has lived with other cats, she doesn't get along with some
and she may be happiest as an only cat. You can meet Callie in the AC PAW cattery at the Traverse City PetSmart. Please stop in and meet this lovely girl. She will be sure to win your heart. She is a short hair
gray and white tabby.
If you would like to meet to adopt Callie, go to our website at
www.acpaw.org
and fill out a pre-adoption questionnaire. An AC PAW volunteer will contact you.
AC PAW was founded in 1995 to give animals a second chance at life. The non-profit, no-kill shelter started as a safe haven for animals from abuse, hunger, disease and death. AC PAW has now rescued over 6,000 animals in the northern Michigan region and services the five-county Grand Traverse area.
From the Charlevoix Humane Society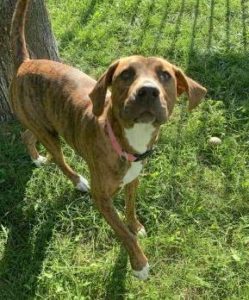 Meet Daisy Girl! Daisy was a recent surrender due to her not getting along with the other  dogs in the home. She is about 11 months old and is looking for her forever home! She is a little choosy with her canine friends, but does get along with some of them especially if they are pretty chill. Since she is a hound mix and has lots of energy, cats probably wouldn't be a good fit.
For more information on Daisy, contact the Charlevoix Area Humane Society for more information.
The Charlevoix Human Society's mission is to practice and promote the principle that every life is precious. As such, we are committed to the highest principles of humane care and professional treatment of injured, ill, neglected or abused animals. For more information on pets that are available for adoption or to donate, visit the shelter at 614 Beardsley Street in Boyne City or online at
www.charlevoixhumane.org
From AuSable Valley Animal Shelter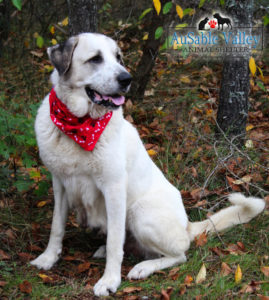 Taffy is a wonderful 7-year-old, 90-pound Anatolian Shepherd. She is looking for a forever foster family. This sweet older girl has had a rough life and is ready to be spoiled in all of the very best ways. She needs a soft doggy bed, kind words, soft hands and lots of attention. She deserves all of that and so much more.
Taffy walks well on a leash and is just a very special, calm, lovely girl. She has been spayed, vaccinated and microchipped. If you would like more information about Taffy and are interested in being her foster family, please call the shelter at (989)348-4117.
AuSable Valley Animal is a privately funded nonprofit animal shelter. We are a No Kill facility and stray center for dogs within Crawford county and a closed admission No Kill cat shelter. Our main goals are rehab and rehome, education, and animal welfare within our community.
Visit us online at www.ausablevalleyanimalshelter.org.
From Cheboygan County Humane Society

Goose is a 7 year old Redbone Coon Hound. He is neutered, chipped and UTD on shots, adoption fee $90.00. Goose is just a big old goofy hound. He has not been used for hunting, he was a family doggie. Goose is very energetic and VERY strong! He will need someone who can be dominant over him to make him mind. Goose was raised with a smaller dog whom he did very well with, several 'cousin' dogs and young kids. Goose has separation anxiety, even with another dog in home, so you will want to crate him or have some sort of outside/garage enclosure for him if he will be left home alone. The nose: yes it works! Please be mindful of this when he is outside. He is a runner at times, so if a pen/fenced in yard is not available, he will have to be on a restraint. Goose is a very jolly boy, super social and friendly. An active home would be ideal for Goose. He is house trained, walks on leash but pulls. He is more on the dominant side and requires being fed separately if there is another dog in his new home. Goose does prefer being outside over inside. He is however a bed hog and couch potato. Likes to cuddle and is affectionate. Come to the shelter and take this big boy for a walkie!
Please visit their website at cheboyganhumanesociety.org. Or stop by the shelter at 1535 Hackleburg Road, Cheboygan. Call 231-238-8221 for more information. Shelter hours are Mon-Fri 9-4pm and Saturday noon-4pm.