If you are looking for a new furry family member for your home, please consider adopting from one of our area shelters. There are thousands of pets each year in Northern Michigan who lose their family for one reason or another. Rescue is love!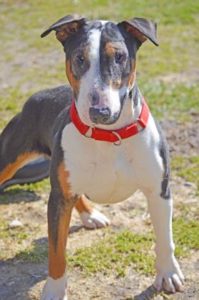 My name is Sam and I am a very unique man. I came from a little bit of a hard situation up north, but the staff here at the shelter is getting me all better. I had a bit of work done on my eyes to help me see a little better and that's going to help me out so much. Despite my eye issues, I am ready to take on the world. I'm very active and will need a little work, but I do like the attention of being trained so that's going to very helpful when you take me home. Fill out an application here online to start the process of getting me into your home. Can't wait to meet you.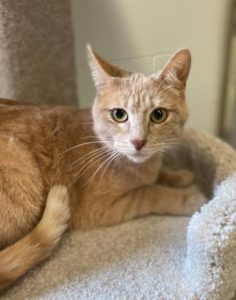 Hello, my name is Ellery and I'm a three year old cat with plenty of mothering experience. What a relief it is to know that your young ones have grown up and made you proud. However, I'm thankful that I can finally retire from that laborious job. Unfortunately, my years of motherhood has given me a protective personality, so that I'm always on my guard with other cats and dogs. I find it difficult to relate with them. Therefore, I may need to be the only pet in your home. Maybe in time this will change, but for now that's the way it is. So if you're looking for a single cat to be your loyal companion, then I'm the girl for you. Just ask for Ellery, I'll be waiting.
The LTBHS located on West Conway Road, between Petoskey and Harbor Springs is a no kill shelter that helps find homes for over 500 dogs and cats each year. The LTBHS is completely funded thru donations. All pets adopted from LTBHS are neutered and have received a vet check and shots. For more information about all pets available for adoption or to donate, visit them online at www.ltbhs.com

Cherryland Humane Society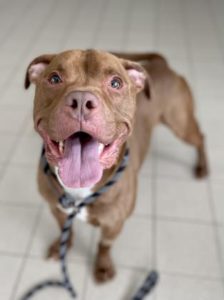 Name: Hendrix
Info: Male, pitt mix, 1 Year
Days At the Shelter: 60 days
History:  stray
Description: Hendrix here!
Oh boy oh boy, are you ready to play and have fun every single day?
I am a playful goofball searching for an active family who can manage my strength.
My tip top shape keeps me agile and ready to go!
Toys are one of my favorite things. Tennis balls, rope toys, squeakers… they are all the best!
Even though I am strong and active, I can be quite the gentle social sweetheart.
With a lil bit of training and socialization, I will make for a wonderful best friend and companion.
I am a bit stressed at the shelter, so I can come across a bit bossy towards other dogs. I must meet any new dog friends before heading home.
No kitty cats please.
 Cherryland Humane Society is a private, no kill animal shelter servicing Grand Traverse and Leelanau counties. We are an independent, 501-C, non profit organization. CHS is dependent on donations, fundraising activities, estates, planned giving, memorials and occasional grants for operation. Visit our available pets online at cherrylandhumane.org
AC PAWS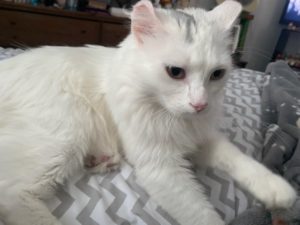 EFFIE was found nearly frozen in a parking lot. She was in vet care for two months as they nursed her back to health. She lost parts of her ears and tail to frostbite, but her AC PAW foster mom says that just makes
her cuter. While she's a bit skittish at first, she warms up quickly then she is definitely a lover who cuddles in bed at night, wants to be near her people, and will push her head into your hand for head scratches.
She loves one on one attention. Effie likes her toys and her food. She does get nervous when it's loud and busy. She likes small dogs and kids with a quiet introduction. She is not fond of big dogs, but she will tolerate them. Her lovely long fur will need brushing to keep it smooth. Effie is a sweetheart. She is two years old.
If you would like to talk to their foster for more information, go to our website at
www.acpaw.org
and fill out a pre-adoption questionnaire. Their foster mom will contact you.
AC PAW was founded in 1995 to give animals a second chance at life. The non-profit, no-kill shelter started as a safe haven for animals from abuse, hunger, disease and death. AC PAW has now rescued over 6,000 animals in the northern Michigan region and services the five-county Grand Traverse area.
From the Charlevoix Humane Society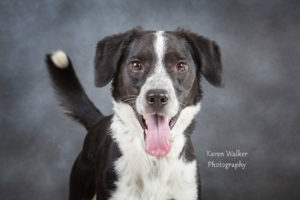 Meet Shadow, that's me! I am a 3-year-old Beagle/Blue Healer mix. You know what that means? I have a TON of energy! I sometimes think I am a puppy with all my energy, so I could definitely benefit from some training. I am not a big fan of other dogs, but I am respectful towards cats. I am a nose to the ground, lets find out what is going on type of guy. I love going for walks and playing outside. I am looking for someone(s) that can match my energy or has a nice fenced in yard where I can run around and play. I absolutely love people, I do have the tendency to jump up though because I am just so excited! If you are interested in meeting me, please fill out an application and make an appointment!
The Charlevoix Human Society's mission is to practice and promote the principle that every life is precious. As such, we are committed to the highest principles of humane care and professional treatment of injured, ill, neglected or abused animals. For more information on pets that are available for adoption or to donate, visit the shelter at 614 Beardsley Street in Boyne City or online at
www.charlevoixhumane.org
From AuSable Valley Animal Shelter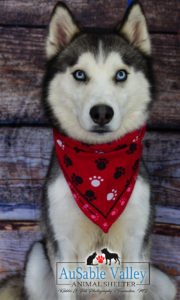 Oscar is a 4-and-a-half-year-old small Husky who's active and loves the outdoors. Oscar is a little shy at first…but once he gets to know you, he's happy to show off his charming personality. This gorgeous blue-eyed guy is very affectionate, loves to play, and looking for a family with the energy to keep up with his active life. Oscar knows a few basic commands, but he can't seem to leave the cats alone…so a home without felines would be best. Oscar is a natural born singer who'll share his talents with anyone who'll listen. Oscar has been neutered, vaccinated, micro-chipped! If you have questions about Oscar, please call the shelter at (989) 348-4117. If you would like an adoption application, please contact the shelter via email at
avascares2@gmail.com
.
AuSable Valley Animal is a privately funded nonprofit animal shelter. We are a No Kill facility and stray center for dogs within Crawford county and a closed admission No Kill cat shelter. Our main goals are rehab and rehome, education, and animal welfare within our community.
Visit us online at
www.ausablevalleyanimalshelter.org
.
From Cheboygan County Humane Society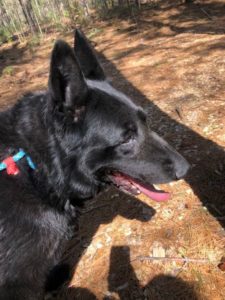 Niko is a black neutered male German Shepherd. He was originally adopted from here in 2016 and due to no fault of his own he has found his way back to us. Niko has spent most of the last years outside, so he would like a home where he can be outside a lot. He is getting older now and is looking for a home where he can spend his golden years. He walks politely on a leash and knows sit. He is not good with other animals. Niko's adoption fee is $90. He is up to date on vaccines and microchipped.
Please visit their website at cheboyganhumanesociety.org. Or stop by the shelter at 1535 Hackleburg Road, Cheboygan. Call 231-238-8221 for more information. Shelter hours are Mon-Fri 9-4pm and Saturday noon-4pm.