If you are looking for a new furry family member for your home, please consider adopting from one of our area shelters. There are thousands of pets each year in Northern Michigan who lose their family for one reason or another. Rescue is love!
From the Little Traverse Bay Humane Shelter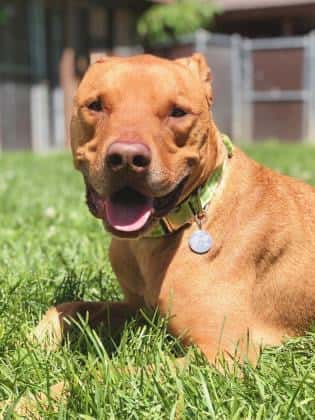 I'm six years old and still hoping for a permanent home. I tried out a family once, but their youngster who was under a year old, was way too much for me! Sure, I'm a big guy, but those little peeps are scary. They call me Skylar and I'm a seventy-plus pound Pitt Bull mix. I'm a very lovable guy for the most part, it's just those small tikes that bother me. I would like to meet other dogs should you have some, but maybe I should stay away from cats since they're tiny creatures too. Big guy that I am; I'm not ashamed to say that I enjoy cuddling. Maybe I could be your couch potato partner during game time. I enjoy a good walk and when it comes to manners I do "sit" and even shake paws if you like. I know six seems old, but really it's just the beginning of the fun years. I play with my squeaky toys rather than chew them and I'm clean and well behaved. Please be sure to make an appointment if you think I'm the guy for you. My name is Skylar and I look forward to meeting you.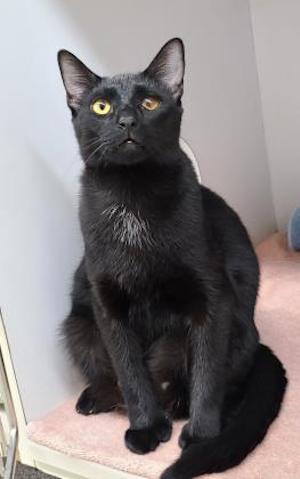 Okay, let's just get it over with about the funny looking eye. I was checked out by my doc and all's well. So now that we covered that issue, let me tell you a little bit about myself. For starters, I'm a very friendly guy with pretty much everyone. However, I couldn't say for certain how I feel about dogs, mainly because I haven't met one yet. But who knows? I'm such an easy going guy that a dog in my life might be just the thing. To continue: my name is Hal; I'm a tad over a year old; I have a sleek black coat and a great personality. What more could you ask for in a cat? Okay then, I'm also clean and have very good manners. So if you think I'm the guy who will complete your life, than please make an appointment to come see me ASAP. Here's hoping to be forever yours, Hal.
The LTBHS located on West Conway Road, between Petoskey and Harbor Springs is a no kill shelter that helps find homes for over 500 dogs and cats each year. The LTBHS is completely funded thru donations. All pets adopted from LTBHS are neutered and have received a vet check and shots. For more information about all pets available for adoption or to donate, visit them online at www.ltbhs.com

Cherryland Humane Society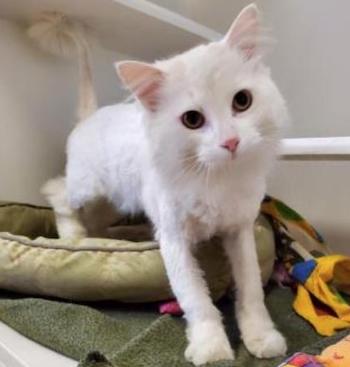 Name: Tic Tac
Info: 3 years, male
Days At the Shelter: 184 days
Description: Tic Tac is our local lion of the pack! Tic Tac is a handsome boy, with a strong personality. When Tic Tac arrived at CHS as a stray, he was pretty matted and needed a good grooming. Once he received his lion cut, Tic Tac's personality just shined! He really has a kingship spirit. He can be nervous in a one to one situation, and may need some time to settling down. He will require an experienced owner who doesn't mind a cat with cattitude. Tic Tac loves to do his own thing but when it comes down to it… he is just as sweet as sugar, especially if there is wet food involved. With time his fluffy coat will return… Tic Tac is hoping to find his forever home before that!
Cherryland Humane Society is a private, no kill animal shelter servicing Grand Traverse and Leelanau counties. We are an independent, 501-C, non profit organization. CHS is dependent on donations, fundraising activities, estates, planned giving, memorials and occasional grants for operation. Visit our available pets online at cherrylandhumane.org
AC PAWS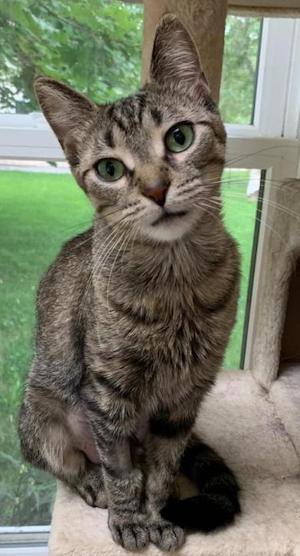 As we continue to ensure the wellness and safety of the community and our AC PAW volunteers, the cattery at PetSmart will
remain closed.
However, AC PAW is now doing carefully structured and safe adoptions by appointment only.  Visit our website at
www.acpaw.org
AC PAW would like to feature Ivy this week. Ivy is a warrior! This little girl has been through so much in her short life, but she has come out the other side tougher and stronger. Ivy was born with a grade 6 heart murmur and this "could" shorten her life, we just don't know. There are many reports of cats living a long, vibrant life with a serious heart murmur. When deemed safe, she was spayed. She made it through the operation much better than anyone expected which goes to show her sheer strength and determination. She needs no special treatment. She has been checked over thoroughly many times by many vets and she is very fit and strong. Due to a harmless and slight congenital issue with her spine, Ivy doesn't like being touched on her back or near her back so living with younger children is not recommended. However, she can be picked up from underneath and she enjoys that. She is a very sweet and affectionate girl who loves to cuddle, be petted, loves her toys and her food! She happily gets along with other cats, dogs and children.
Ivy is ready to leave her foster home now for a wonderful new life. She is a beautiful, sweet brown tabby, born April 2019. If you would like to meet or adopt Ivy, fill out an application online.
AC PAW was founded in 1995 to give animals a second chance at life. The non-profit, no-kill shelter started as a safe haven for animals from abuse, hunger, disease and death. AC PAW has now rescued over 6,000 animals in the northern Michigan region and services the five-county Grand Traverse area.
From the Charlevoix Humane Society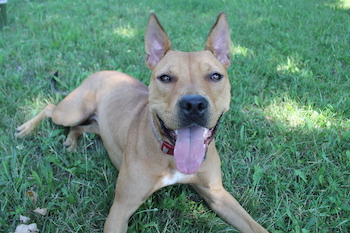 This is one of our newest dogs here at the CAHS. Barb is a year and a half old female Terrier/ Pharaoh Hound that we brought up from another shelter. If you are looking for dog who is smart, active and just plain fun, Barb would be a good choice for an experienced dog owner. Barb needs room to run and play and have lots of interaction with her family. Training would certainly be a plus for Barb.
The Charlevoix Human Society's mission is to practice and promote the principle that every life is precious. As such, we are committed to the highest principles of humane care and professional treatment of injured, ill, neglected or abused animals. For more information on pets that are available for adoption or to donate, visit the shelter at 614 Beardsley Street in Boyne City or online at www.charlevoixhumane.org
From AuSable Valley Animal Shelter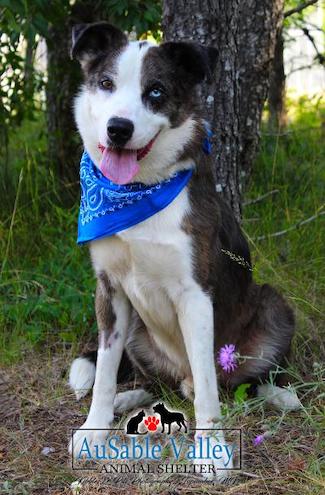 My name is Dexter! I'm a really handsome four year old Aussie/Cattle dog mix with attractive mismatched eyes. My favorite thing in the world is playing fetch! A close second would be cuddles! I'm really smart dog and know a bunch of commands and I'm always ready to learn more! I can be a little picky about my animal companions, so I would like to be the only pet in the home. Because I do not like to share my toys, I would do best in an adult home. I am really sweet and love attention and I can't wait to spend the rest of my life with you!
Hope to see you soon!

While our shelter is closed to the public, we are conducting no-contact adoptions! As always, if you have any questions about our pets available for adoption please call the shelter at (989) 348-4117 and speak with the shelter staff.
AuSable Valley Animal is a privately funded nonprofit animal shelter. We are a No Kill facility and stray center for dogs within Crawford county and a closed admission No Kill cat shelter. Our main goals are rehab and rehome, education, and animal welfare within our community.
Visit us online at www.ausablevalleyanimalshelter.org.
From Cheboygan County Humane Society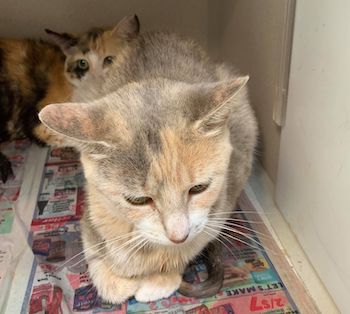 Porsha is 2 years old, spayed, chipped and UTD on shots, adoption fee $25.00. Porsha came from a home with several other cats but has not been exposed to dogs or kids. She is very shy but friendly. It may take a little time for her to warm up to you and adjust, so please have patience and don't force yourself on her. Porsha does use her litter pan and is used to being an indoor/outdoor cat.

Please visit their website at cheboyganhumanesociety.org. Or stop by the shelter at 1535 Hackleburg Road, Cheboygan. Call 231-238-8221 for more information. Shelter hours are Mon-Fri 9-4pm and Saturday noon-4pm.
Pet of the Week is brought to you by Grand Traverse Carpet Cleaners. Clean up all your pet messes and make your home smell and look great. Serving Northern Michigan from Cadillac to Petoskey, Charlevoix to Traverse City. Make an appointment here.