If you are looking for a new furry family member for your home, please consider adopting from one of our area shelters. There are thousands of pets each year in Northern Michigan who lose their family for one reason or another. Rescue is love!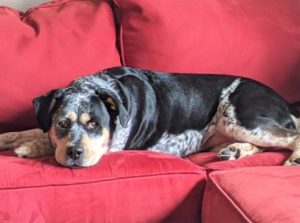 My name is Bailey and I'm a one and a half year old Catahoula Leopard dog mix. I'm a pretty big girl weighing in at 74lbs. Even though I'm a very sweet dog, I suffer from separation anxiety. I would like a home where someone is around most of the day. I love the outdoors, so a fenced in yard would be great, though not a necessity. I do very well in the house, in fact, when I'm not outside, I occasionally turn into a couch potato. You may want to take me for walks to make sure I don't become a mushy potato. I'm good with other dogs, but would enjoy meeting any new companions before I make a commitment. Cats are an absolute no for me! My last home had cats and they had to bring me back to the shelter because I could not be trusted to share my space with other furry little critters. And as far as children go, I'm okay with the little tykes. My last family said I like to swim and play fetch. I know a lot of basic commands and I like to ride in the car. If you're looking for a great family dog, come visit me soon!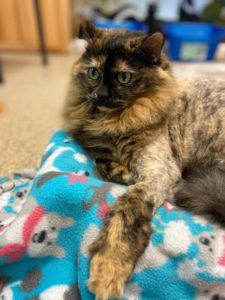 My name is Nattie and I'm a lovely five year old longhair tortoiseshell cat that came from a home not too long ago. I lived there with my best buds in the whole world; Brownie, Lancey and Lilly. We could be related, but who knows for sure and it really doesn't matter as far as I'm concerned. The important thing to know is that we are bonded to each other and would love to share a new home as a family. However, we totally understand that that's not always possible. So the next best thing would be if we could be adopted in pairs. I'm not fussy about who lives with me because I get along splendidly with all of my friends, and I believe that they feel the same way about me. We haven't been around other cats, but we're all good natured and easy going, so maybe it would be okay to have new friends. Dogs and small children are not to our liking, so maybe a home without them would be a better fit for us. I don't want to brag, but it is an enlightening experience when you spend some time with us. We each have our own unique personality, yet blend perfectly together as a group. We take care of each other and share the attention that is given us. I hope you will take the time to come enjoy our company. Many purrs await you, Nattie
The LTBHS located on West Conway Road, between Petoskey and Harbor Springs is a no kill shelter that helps find homes for over 500 dogs and cats each year. The LTBHS is completely funded thru donations. All pets adopted from LTBHS are neutered and have received a vet check and shots. For more information about all pets available for adoption or to donate, visit them online at www.ltbhs.com

Cherryland Humane Society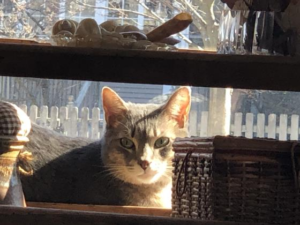 Name: Dallas
Info: Male, Domestic Short Hair, 4 Years
Days At the Shelter: 840 days. 
History:  Dallas was part of a large owner surrender, and he was the most shy out of the bunch. He is the only kitty in this bunch left, and has been in foster for close to a year. His foster has been absolutely amazing at helping him come out of his shell, and teaching him how to be a cat!
Description: My name is Dallas, and I am a semi-independent loveable guy who is looking for a peaceful place to patrol.
I love to play with feather toys, snuggle with my people, and hang out basking in the sun through my window perch.
Jingle balls are my absolute FAVORITE!
I take my time getting to know my new friends and most days I prefer to stick to myself. It may take me a bit to become comfortable in a new space, but once I do, I take over! Couch naps, dog bed snuggles, window perching, and warm laps to enjoy are all great activities in my book.
I am currently in foster, loving all this attention. My foster family has taught me how to trust, play, and love. I would love a forever adoptive family who can offer me the same patience and care.
I have done great with my foster dog sibling but it took a lot of work before I was able to accept her love too.
If you are looking for a cat with a huge personality, I AM YOUR MAN!
Cherryland Humane Society is a private, no kill animal shelter servicing Grand Traverse and Leelanau counties. We are an independent, 501-C, non profit organization. CHS is dependent on donations, fundraising activities, estates, planned giving, memorials and occasional grants for operation. Visit our available pets online at cherrylandhumane.org
AC PAWS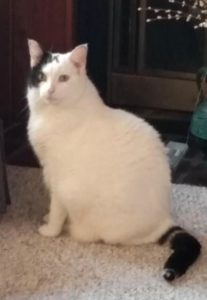 SADIE is a very special girl that has been waiting patiently for just the right someone to adopt her. She came to AC PAW when her owner passed away last October.  Being eleven years old and a senior citizen has made it harder to find a home for her.  She is very shy and will need a home with someone who will have the time and patience to let her adjust to new surroundings.
Sadie is a very healthy kitty. She is on a medication to maintain a healthy urinary tract. It  is an ointment that will need to be rubbed on her ear daily.  The cost for a three month supply is $30.00. It is a very small price to pay for a cat that has so much love to give you in return. Animal Rescue is about giving an animal a very deserving second chance to have a new life in a loving home.  Sadie may not be the perfect kitty for some, but she will be the perfect kitty for someone who will accept her needs and will love her. The rewards you will receive in return are worth it. She will be a wonderful friend and companion.
Sadie is a beautiful cat, a domestic medium hair, pure white with black markings.  If you would like more information or would like to meet Sadie, go to our website at
www.acpaw.org
and fill out a pre-adoption questionnaire. An AC PAW volunteer will contact you.
If you are interested in adopting, go to 
www.acpaw.org
and fill out a pre-adoption questionnaire. An AC PAW volunteer will contact you.
AC PAW was founded in 1995 to give animals a second chance at life. The non-profit, no-kill shelter started as a safe haven for animals from abuse, hunger, disease and death. AC PAW has now rescued over 6,000 animals in the northern Michigan region and services the five-county Grand Traverse area.
From the Charlevoix Humane Society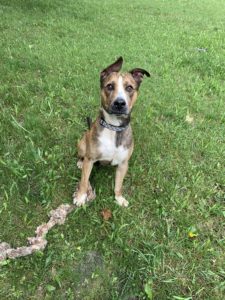 Meet Sparky! Sparky is a six year old shepherd/pit mix. He is a big, goofy boy who loves to play outside and get attention. When you first look at him, you instantly fall in love with him because of his ears that don't quite know what to do. Sparky doesn't get along with other dogs or children, so he has to be an only pet in the home with children 16 or older. He doesn't seem to bark too much, mostly when he wants your attention, food or the other dogs start barking. Sparky loves playing ball, so as long as you have a ball in hand he is a very photogenic boy.
The Charlevoix Human Society's mission is to practice and promote the principle that every life is precious. As such, we are committed to the highest principles of humane care and professional treatment of injured, ill, neglected or abused animals. For more information on pets that are available for adoption or to donate, visit the shelter at 614 Beardsley Street in Boyne City or online at
www.charlevoixhumane.org
From AuSable Valley Animal Shelter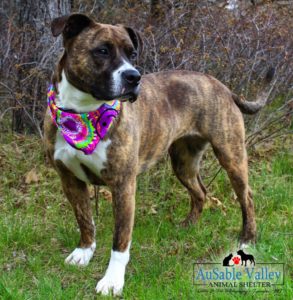 Nia is a very beautiful and affectionate 3 1/2  year old Pit Bull mix.  She loves to cuddle and play with her toys and play in the yard with her people. She is not comfortable with strangers and may be protective of her owners because she is so affectionate.  We would like to find Nia a home as an only pet with adults who could give her the attention she needs and a safe place where she wouldn't encounter strangers. She has a very kind disposition and seems to bond well with people that she considers family. This is the dog that would be next to you on the couch watching a movie. Nia has been spayed, vaccinated and microchipped. If you have questions about Nia or would like an adoption application, please contact the shelter via email at avascares2@gmail.com.
AuSable Valley Animal is a privately funded nonprofit animal shelter. We are a No Kill facility and stray center for dogs within Crawford county and a closed admission No Kill cat shelter. Our main goals are rehab and rehome, education, and animal welfare within our community.
Visit us online at www.ausablevalleyanimalshelter.org.
From Cheboygan County Humane Society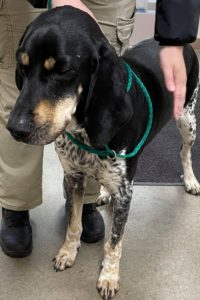 Birch is a 5 year old Blue Tick Coon Hound. She is spayed, chipped and UTD on shots, adoption fee $90.00. Birch came to us as a stray, so we do not know her temperament with other dogs, cats or kids. For a hound, Birch really does not bark or howl very much. She is a very friendly and sweet gal! Seems to be pretty much house trained, walks ok on leash. Not really sure how she is with car rides, being crated or recall off leash.
Please visit their website at cheboyganhumanesociety.org. Or stop by the shelter at 1535 Hackleburg Road, Cheboygan. Call 231-238-8221 for more information. Shelter hours are Mon-Fri 9-4pm and Saturday noon-4pm.