If you are looking for a new furry family member for your home, please consider adopting from one of our area shelters. There are thousands of pets each year in Northern Michigan who lose their family for one reason or another. Rescue is love!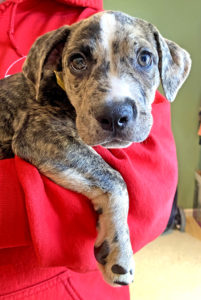 If days full of puppy dog eyes, constant entertainment, and just a little bit of mischief sound like a plan to you, 2 month old Buzz might be your perfect match! You'll get to see him enjoy all of the new things that the world has to offer and build a lifelong bond with him through training and adventure. Puppies need time, energy, and patience to help them become the best family pets they can be, so if you're up for a bit of a challenge—and a lot of fun—Buzz or one of his brothers might be the right match for you!
Hi there, my name is Sweetie and I'm a kitty who lives up to her name. I was brought to LTBHS with my adorable little kitten who has since found her forever home and I would love it if I could find my own very soon! I'm super low maintenance and would be content with just a warm cozy bed to snuggle up in and a few toys for when I'm feeling playful. I also like to perch in high up spaces so a cat tree would be great for my new home. If you're looking for a sweet laidback girl then fill out an application on me right here online or you can even fill one out at the shelter while you spend time with me. I hope to meet you soon! Love, Sweetie
The LTBHS located on West Conway Road, between Petoskey and Harbor Springs is a no kill shelter that helps find homes for over 500 dogs and cats each year. The LTBHS is completely funded thru donations. All pets adopted from LTBHS are neutered and have received a vet check and shots. For more information about all pets available for adoption or to donate, visit them online at www.ltbhs.com

Cherryland Humane Society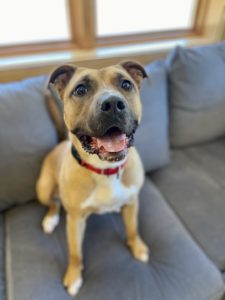 Name: Blair
Info: Female, 4 years old, 57 lbs, Staffordshire Terrier Mix
Days At the Shelter: 93 DAYS
History: Stray from Wexford County
Description: If you love cheese, booty rubs, and tug of war, I think maybe you should come meet me. I am okay with all the friends, canine or feline. Due to my energy level and size, I would prefer being in a home with mature children (12+)
I am so smart! And smiley! And lovey! I'll shadow you all over the house! I do need help with my continued training, including impulse control, and other normal adultescent dog needs.
Cherryland Humane Society is a private, no kill animal shelter servicing Grand Traverse and Leelanau counties. We are an independent, 501-C, non profit organization. CHS is dependent on donations, fundraising activities, estates, planned giving, memorials and occasional grants for operation. Visit our available pets online at
cherrylandhumane.org
AC PAWS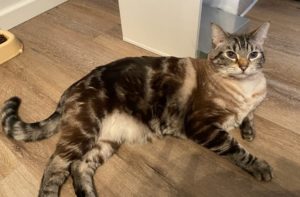 ESTEBAN 'S foster mom says he has the wildest mix of colors and patterns she's ever seen and he is absolutely beautiful.  Esteban was adopted from AC PAW as a kitten, but when the other cats in the
home began attacking him and causing him to act out, his owner relinquished him back to us. In his foster home, he is still rather nervous and afraid, but he comes out now to see his people. He loves
to be petted when things are nice and quiet and likes to sit quietly and watch his surroundings. Sudden noise overwhelms him. Dogs do too. When he feels safe and feels he can trust,, this big guy is very sweet. Esteban will need a calm, quiet adult home.  He's a wonderful cat who would love to find his forever home.   He is six years old and has short hair.
If you would like to meet to adopt Esteban, go to our website at
www.acpaw.org
and fill out an adoption questionnaire. An AC PAW volunteer will contact you.
AC PAW was founded in 1995 to give animals a second chance at life. The non-profit, no-kill shelter started as a safe haven for animals from abuse, hunger, disease and death. AC PAW has now rescued over 6,000 animals in the northern Michigan region and services the five-county Grand Traverse area.
From the Charlevoix Humane Society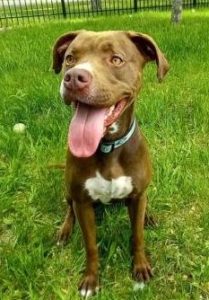 Hey guys, I'm Roxanne and I'm a quiet girl, but I still get random spurts of energy. I came to the shelter with my sister after spending most of my early days outdoors. My sister and I really didn't get along very well, so I tend to react negatively when around other dogs. One of my favorite things to do is play! Another thing I enjoy very much is cuddling. I love my humans, but cats not so much. I do pretty well with children, but older kids may be a better fit for me until I get adjusted. I love to go for walks and while I get to go on many here at the shelter, I would love to have my very own human to walk with me. Please think about letting me in to your home and heart, I promise I won't disappoint!
The Charlevoix Human Society's mission is to practice and promote the principle that every life is precious. As such, we are committed to the highest principles of humane care and professional treatment of injured, ill, neglected or abused animals. For more information on pets that are available for adoption or to donate, visit the shelter at 614 Beardsley Street in Boyne City or online at
www.charlevoixhumane.org
From AuSable Valley Animal Shelter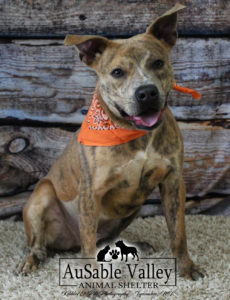 At 5 years old, Turbo has a lot of energy, so he's hoping for an active family that likes to get outdoors and have fun. Turbo would do well with older children and adults but may be a bit too exuberant for small children. He is not a fan of cats but gets along well with other dogs. If you have a dog at home, a meet and greet with Turbo is required. Turbo has a great smile and LOVES to hang out with his humans and be cuddled. This happy and sweet boy just wants to be somebody's very best pal. Turbo has been neutered, vaccinated, micro-chipped and heartworm negative. For more information about Turbo, please call the shelter at (989) 348-4117 and speak with the shelter staff
AuSable Valley Animal is a privately funded nonprofit animal shelter. We are a No Kill facility and stray center for dogs within Crawford county and a closed admission No Kill cat shelter. Our main goals are rehab and rehome, education, and animal welfare within our community.
Visit us online at
www.ausablevalleyanimalshelter.org
.
From Cheboygan County Humane Society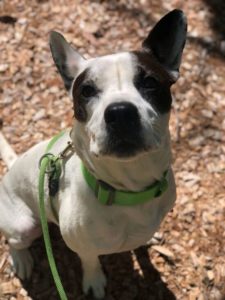 Kilo is our longest resident. He was recently adopted, but has now been returned. We did learn something about Kilo from this experience though. Kilo is looking for the perfect family to adopt him! He has a lot of good qualities, if someone is willing to give him time to settle into his new home. Here is what we know. Kilo is not good with cats, and probably not good with other small dogs. Kilo is very cuddly and affectionate once he gets to know you. He is good with kids, but can be over protective of them, especially small children. Kilo would prefer a home out in the country with a big fenced in yard for him to play in. Kilo is goofy and playful and loves his toys. Kilo is fine with some dogs, and he would do best in a home with no other dogs, or maybe one other dog that he was able to meet first. Kilo is high energy so a very active owner/family would be ideal for him. Kilo is house trained, he walks well on a leash, and knows a few commands. Kilo is not very food motivated and prefers affection when he does a good job. Kilo does not like strangers and would do best in a quiet home that does not have a lot of people coming and going. He is looking for a home with someone he can snuggle with on the couch and go for long walks with!  Kilo is in training and as part of our training promotion his adoption fee is currently only $25. If you are interested in meeting this cutie pie, come out and meet Kilo.
Please visit their website at cheboyganhumanesociety.org. Or stop by the shelter at 1535 Hackleburg Road, Cheboygan. Call 231-238-8221 for more information. Shelter hours are Mon-Fri 9-4pm and Saturday noon-4pm.