If you are looking for a new furry family member for your home, please consider adopting from one of our area shelters. There are thousands of pets each year in Northern Michigan who lose their family for one reason or another. Rescue is love!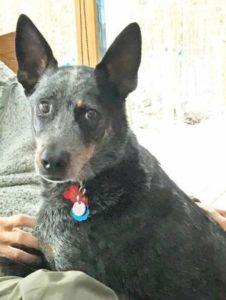 Hi there, my name is Blue, which I guess is appropriate because I'm a six-year-old Blue Heeler who is looking for a forever home. Before I arrived in northern Michigan, I found myself in a shelter all the way down south. Sadly, a hurricane separated me from my previous family which left me homeless and very sad. If that wasn't enough, I later found out that I had heartworm disease. Fortunately, I should heal just fine with the treatment I have received, but I need to be kept quiet and calm until I recover. This will mean that I am on activity restriction with short leash walks only and lots of quiet time. I'm a very loving, smart boy who enjoys attention. I'm proud to say that I'm potty trained and I know my basic commands. I'm an all-around agreeable boy who enjoys relaxing around the house. The only catch is I have a bit of a jealous streak, (I don't like sharing attention!) so I really need to be in a home without any other pets (no cats), or another dog that allows me to be in charge. I have a very strong herding instinct, so a home with lots of space would be ideal. I'm a good boy who needs a second chance and I just know I can prove I deserve that!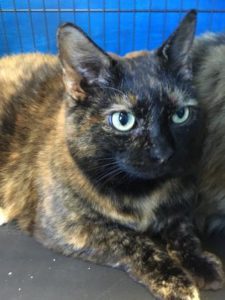 Hi I'm Brownie, I'm a big beautiful girl with lots of love to give. I came to the shelter with my two sisters and brother Lilly, Nattie, and Lancey and we are quite bonded to each other and it would make me so happy if I could be adopted with one of my siblings to feel more comfortable in my new forever home. I think once you meet us it would be hard to not want to adopt all four of us, we are quite the adorable and funny bunch of cats. I love to get pets and will rub up against your leg and ask for all the lovins and snuggles. Funny thing is once one of my siblings starts getting pets all the rest of us will swarm you and ask for pets too, its quite funny. I hope you'll fill out an application and come meet me and my fluffy and lovable siblings real soon.
The LTBHS located on West Conway Road, between Petoskey and Harbor Springs is a no kill shelter that helps find homes for over 500 dogs and cats each year. The LTBHS is completely funded thru donations. All pets adopted from LTBHS are neutered and have received a vet check and shots. For more information about all pets available for adoption or to donate, visit them online at www.ltbhs.com

Cherryland Humane Society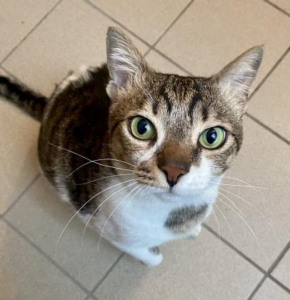 Name: Saudi
Info: Male, 5 years, Domestic Short Hair
Days At the Shelter: 60+
History: Originally from Saudi Arabia (Yes the country!). His original owner was in the army and brought him back. Saudi wasn't comfortable with the dog, so they had to unfortunately give him up.
Description:
Saudi is a 5 year old lovable guy who enjoys sitting in laps, string toys, receiving affection, and having his own space at times. You will fall in love with Saudi's little rabbit nose, it's adorable when he wiggles it! His favorite thing in the world is riding in a cat stroller around the facility that we have named Saudi's Hot Rod. Its the cutest thing! He is very chatty, and will have a full conversation with you.
Cherryland Humane Society is a private, no kill animal shelter servicing Grand Traverse and Leelanau counties. We are an independent, 501-C, non profit organization. CHS is dependent on donations, fundraising activities, estates, planned giving, memorials and occasional grants for operation. Visit our available pets online at cherrylandhumane.org
AC PAWS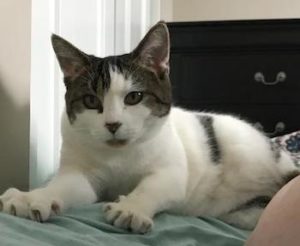 As we continue to ensure the wellness and safety of the community and our AC PAW volunteers, the cattery at PetSmart will remain closed. However, AC PAW is now doing carefully structured and safe adoptions by appointment only.  Visit our website at
www.acpaw.org
NINA is a very sweet cat who has been patiently waiting for just the right someone to adopt her. Nina came from a hoarding situation and was very shy at first when she came to AC PAW. She has blossomed wonderfully in her foster home and will do the same with a little time in her forever home. She loves to snuggle in bed at night with her foster mom. She loves to talk and has the loudest purr! She is great with other cats,
but has never been around dogs, so a slow introduction would be necessary. She does play a little rough so a home with no small children would be best. Nina will be the perfect cat for the right family that is willing to be patient and allow her to learn to feel safe in her new surroundings. She is a very pretty girl, mostly white with tabby markings. She is 4 1/2 years old.
If you are interested in adopting, go to 
www.acpaw.org
and fill out a pre-adoption questionnaire. An AC PAW volunteer will contact you.
AC PAW was founded in 1995 to give animals a second chance at life. The non-profit, no-kill shelter started as a safe haven for animals from abuse, hunger, disease and death. AC PAW has now rescued over 6,000 animals in the northern Michigan region and services the five-county Grand Traverse area.
From the Charlevoix Humane Society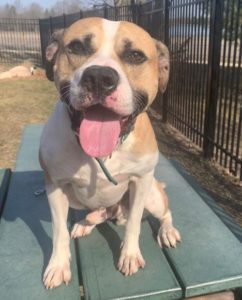 Gronk is my new name, but not my disposition. I am a bit leery of people at first, but sweet and loyal with a bit of time. I recently lost part of my tail because I never stop wagging it and beat the end of it to a pulp. I may have suffered some frostbite as well, so be aware that I much prefer to be inside when it's nasty. Give me a chance to get to know you, I am a good guy. Gronk appears to avoid conflict with other dogs but is certainly interested in the playful interactions. Gronk is a big boy so probably not the best fit for a family with very young children.
The Charlevoix Human Society's mission is to practice and promote the principle that every life is precious. As such, we are committed to the highest principles of humane care and professional treatment of injured, ill, neglected or abused animals. For more information on pets that are available for adoption or to donate, visit the shelter at 614 Beardsley Street in Boyne City or online at
www.charlevoixhumane.org
From AuSable Valley Animal Shelter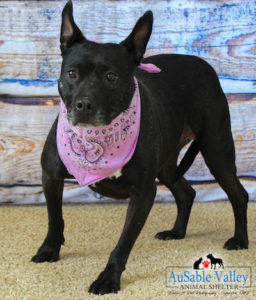 Muppet is a special girl. This 35 pound Pit mix is 8 years old and not at all brave. She is affectionate and sweet but has quite a bit of anxiety. She is not nippy but likes quiet people and quiet places. Muppet really feels most comfortable in the company of other dogs so a canine companion is rather essential for her. She is looking for a home with someone who can not only help her feel secure but also just let her be herself. Muppet's person recently passed away so she came to the shelter in hopes of finding another person to love and care for her. This sweet little lady has been spayed, vaccinated and microchipped.
If you are interested in adopting, please contact the shelter via EMAIL ONLY (avascares2@gmail.com) to request an application and set up an appointment.
AuSable Valley Animal is a privately funded nonprofit animal shelter. We are a No Kill facility and stray center for dogs within Crawford county and a closed admission No Kill cat shelter. Our main goals are rehab and rehome, education, and animal welfare within our community.
Visit us online at www.ausablevalleyanimalshelter.org.
From Cheboygan County Humane Society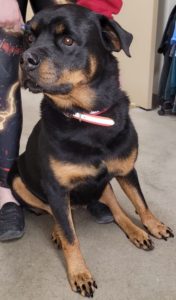 Tara is a 8 year old Rottweiler that loves to play and be loved. Tara is NOT good with other dogs, and has not been exposed to cats. Tara would need to be in a home as the only animal with NO young children as she can be obsessive over her owner. Tara is potty trained, loves the outdoors and enjoys playtime. Tara is looking for a loving home that has a fenced yard if possible. Please CALL the shelter and ask for Dawn or Deputy Collins with any questions regarding Tara. We are NOT taking walk-ins at this time.
Please visit their website at cheboyganhumanesociety.org. Or stop by the shelter at 1535 Hackleburg Road, Cheboygan. Call 231-238-8221 for more information. Shelter hours are Mon-Fri 9-4pm and Saturday noon-4pm.