If you are looking for a new furry family member for your home, please consider adopting from one of our area shelters. There are thousands of pets each year in Northern Michigan who lose their family for one reason or another. Rescue is love!
From the Little Traverse Bay Humane Shelter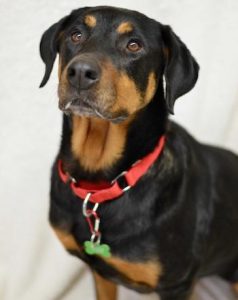 Looking for a sweet dog that is perfect in almost every way? Then maybe we have something in common, because I just happen to be looking for the almost perfect forever family. I realize no one is totally perfect, but we like to think that we're pretty darn close and I'm all for that. My name is Gigi and I'm a four year old Rottweiler mix in need of a loving home without cats. Cats are my weakness, they bring out the naughtiness in me. Other than that I'm a great dog. I even like car rides! However, I may need to meet your other dog before we make any commitments. Once in a while I find a canine that doesn't agree with me, but for the most part I'm usually friendly with everyone-except for cats that is, please don't forget about that. If you could just take a few moments to come visit with me, I could give you a demonstration of my charming personality. I hope to see you soon.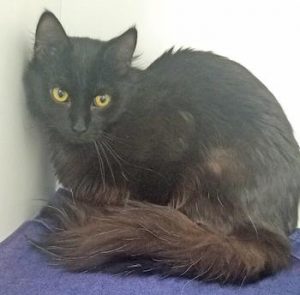 Having come from a home with way too many cats, I decided that more space in which to roam is the way to go. At first I was a little anxious about moving to LTBHS, but now that I've settled in with only a few of my relations with me, I decided that it's not so bad after all. I'm very comfortable now and I'm enjoying all of the attention given to me, Figaro. I'm only two years old can hardly wait to find a new forever home.
The LTBHS located on West Conway Road, between Petoskey and Harbor Springs is a no kill shelter that helps find homes for over 500 dogs and cats each year. The LTBHS is completely funded thru donations. All pets adopted from LTBHS are neutered and have received a vet check and shots. For more information about all pets available for adoption or to donate, visit them online at www.ltbhs.com

Cherryland Humane Society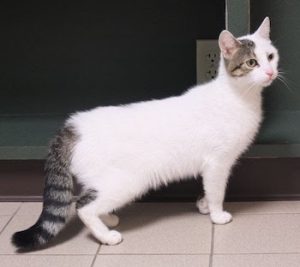 Santana is a beautiful domestic shorthair, mostly white with patches of tortie throughout. Gorgeous green eyes!
She's an independent girl, but is very willing to show affection. Her interests include wet food and head rubs.
Cherryland Humane Society is a private, no kill animal shelter servicing Grand Traverse and Leelanau counties. We are an independent, 501-C, non profit organization. CHS is dependent on donations, fundraising activities, estates, planned giving, memorials and occasional grants for operation. Visit our available pets online at cherrylandhumane.org
AC PAWS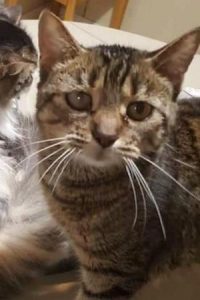 GINNY was a stray that was found very pregnant while taking care of three older kittens. She's the definition of a 'Momma Bear".
She was a wonderful mom who is definitely ready for lots of love and R & R after having two back to back litters. She is a very talkative, but very gentle, easy going, calm kitty. She loves to be in the middle of everything and just hang out with you. She will be
a wonderful addition to any family. Ginny has been around small children and a small dog. She is a 1 1/2 year old short hair very cute brown tabby.
If you would like to adopt her, go
www.acpaw.org
and fill out a pre-adoption questionnaire.
AC PAW was founded in 1995 to give animals a second chance at life. The non-profit, no-kill shelter started as a safe haven for animals from abuse, hunger, disease and death. AC PAW has now rescued over 6,000 animals in the northern Michigan region and services the five-county Grand Traverse area.
Help From My Friends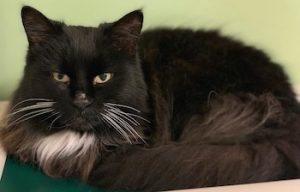 Zeba would love to be in a quiet home where she receives all the attention! She is a nice cat but doesn't care for other cats or dogs, she just wants her person. Zeba is 10 years old, spayed, negative for FeLV, FIV, current on vaccines and microchipped.
If you're interested, please call the center at (231) 533-4070. 
For more information visit
helpfrommyfriends.org
From the Charlevoix Humane Society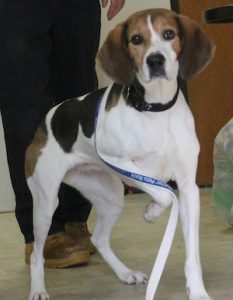 Meet our girl Fancy. She is a four year old Treeing Walker Coonhound that came in as a stray. She seems happiest when outside and her nose to the ground. This breed is considered to be a family friendly breed. Fancy walks very well on a leash so we think she would make and excellent member of an active family. We do feel you would need to have some kind of fencing in place because of her instinct to go on scent.
The Charlevoix Human Society's mission is to practice and promote the principle that every life is precious. As such, we are committed to the highest principles of humane care and professional treatment of injured, ill, neglected or abused animals. For more information on pets that are available for adoption or to donate, visit the shelter at 614 Beardsley Street in Boyne City or online at www.charlevoixhumane.org
From AuSable Valley Animal Shelter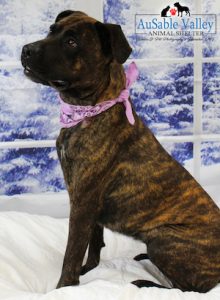 My name is Snickers and I am a two year old mixed breed dog. There are several reasons that you will want to adopt me. First, I am very sweet just like my name! It will be like having your very own candy bar to love and snuggle all the time! What's better than that? I have a lot of puppy energy so I will keep you healthy while we exercise. Look exercising is hard by yourself. Wouldn't you want to tell your friends that you just finished a great workout with a Snickers? I have a pretty good start with commands but I will still need you to work with me so that I will be the best-behaved dog in the neighborhood. I will be a good protector because I love you and I'm sure in no time at all you will fall madly in love with me and I will be your Snickers.
For more information, please call the shelter at (989) 348-4117 or e-mail: avascares@yahoo.com
AuSable Valley Animal is a privately funded nonprofit animal shelter. We are a No Kill facility and stray center for dogs within Crawford county and a closed admission No Kill cat shelter. Our main goals are rehab and rehome, education, and animal welfare within our community.
Visit us online at www.ausablevalleyanimalshelter.org.
From Cheboygan County Humane Society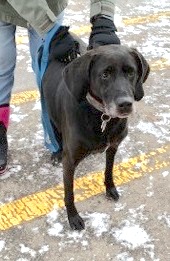 Buddy is a 9 year old Labrador, neutered, chipped and UTD on shots, adoption fee $90.00. Buddy is great with and protective of kids we are told, not good with cats, and is hit or miss with if he is good with dogs or not. Buddy does have food/treat aggression, so being the only dog in his new home is a must. Buddy is a runner so will need to be on restraint at all times outside unless in a fenced in yard. He does know a few basic commands, is house, leash and crate trained. Very treat driven!
Please visit their website at cheboyganhumanesociety.org. Or stop by the shelter at 1535 Hackleburg Road, Cheboygan. Call 231-238-8221 for more information. Shelter hours are Mon-Fri 9-4pm and Saturday noon-4pm.
LITE 96.3'S PET OF THE WEEK is brought to you by Tropic Cove, located behind the D&W Plaza in Petoskey. Visit Tropic Cove online or follow them on Facebook.