If you are looking for a new furry family member for your home, please consider adopting from one of our area shelters. There are thousands of pets each year in Northern Michigan who lose their family for one reason or another. Rescue is love!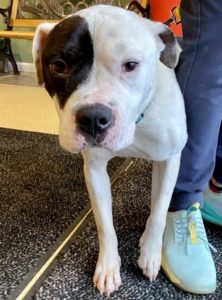 Hello, my name is Baxter. I was just recently brought up to LTBHS by another rescue that is located in the Detroit area. After coming up here, the veterinarians discovered that I am heartworm positive. Currently, I am just looking for a foster family. Someone that will provide a quiet home for me to recover in while I am going through heartworm treatment. If there is another dog in the home, I would like to meet them first. Unfortunately, I wouldn't be able to run around and play with the dog due to my heartworm disease, but I still think I might be fine with another dog in the home. If you are interested in fostering, but not wanting to make a life long commitment at this time, please come on in to spend some time with me while you fill out our foster application. After the treatment is complete you have the option to adopt if you thought we were a good fit.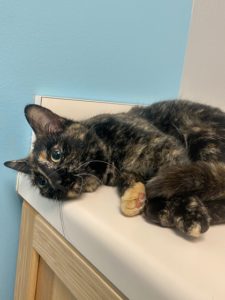 Hello, my name is Jasmine. I am a beautiful tortoiseshell that is now in search of my new forever home. I am pretty shy at first, but it doesn't take too long for me to warm up. I was brought in with four other cats that I have known for quite some time. They are my good friends and it would be awesome if some of us could get adopted together, however it is not required. If you are interested in adopting me, please fill out an application in person or online and come on in to spend some time with me. Love, Jasmine
The LTBHS located on West Conway Road, between Petoskey and Harbor Springs is a no kill shelter that helps find homes for over 500 dogs and cats each year. The LTBHS is completely funded thru donations. All pets adopted from LTBHS are neutered and have received a vet check and shots. For more information about all pets available for adoption or to donate, visit them online at www.ltbhs.com

Cherryland Humane Society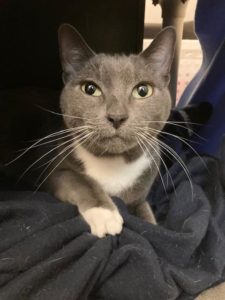 Info: Male, 3 years old, DSH
Days At the Shelter: 284 DAYS
History: Stray
My story begins with our local trap / neuter / return program, and those kind people brought me to Cherryland when they learned I was very much not a feral kitty. I can be a bit shy with new faces, so slow introductions are a must. I have come so far and now I just need a home to commit to me, ideally forever!
My family would be a very cat savvy one, because I can be a little skeptical of new things. I need a home to help continue my journey of trust. All of the love I have already received is making me excited for my future home possibilities!
I do enjoy some nice booty scratches and when you get me purring, I might just not stop. When I go into a new home, I will need to adjust to the new environment at my own pace. I promise I will come around, but my preferred forever home would be a quiet and patient one. Kitty siblings would be okay, as long as they understand sometimes I need my own space. I really do love taking naps in the tiniest of places. My caretakers say I have been at CHS the longest of all my cat roomies, so finding a home would really make my day. Don't you think it's time I spend all my days at home?! I think so too, so come meet me and watch this shy little guy become a companion of your dreams.
Cherryland Humane Society is a private, no kill animal shelter servicing Grand Traverse and Leelanau counties. We are an independent, 501-C, non profit organization. CHS is dependent on donations, fundraising activities, estates, planned giving, memorials and occasional grants for operation. Visit our available pets online at
cherrylandhumane.org
AC PAWS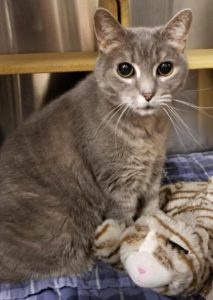 SMOKEY, adopted from AC PAW in 2007, was returned to us when her owner died. She's a dear senior cat whose detached retinas, a condition that can occur in older cats, have left her blind, but is otherwise healthy, active, and sweet and who loves sitting next to you for petting and under-chin scritches. In her new home, she'll need time to find her way around, but you'll be amazed at how well she will do. Blind cats are highly adaptable and often learn quickly to live with their vision loss. Most still can see shadows or shapes. They use their other senses, such as their whiskers to judge distance and the scent glands on their paws to help them navigate. Stairways should be fenced off. They're generally as easy to care for as any other pet and can lead a comfortable and fulfilled life. Our beautiful Smokey is 15 years old, but still has a long time to be a loving companion. She will need dedicated parents who will love her for the rest of her life. Smokey is a domestic shorthair gray tabby. She is front declawed. Don't be deterred from adopting a blind cat….Smokey can be a wonderful addition to your family. If you would like to meet to adopt Smokey, please go to our website at

www.acpaw.org

and fill out an adoption questionnaire. An AC PAW volunteer will contact you.
AC PAW was founded in 1995 to give animals a second chance at life. The non-profit, no-kill shelter started as a safe haven for animals from abuse, hunger, disease and death. AC PAW has now rescued over 6,000 animals in the northern Michigan region and services the five-county Grand Traverse area.
From the Charlevoix Humane Society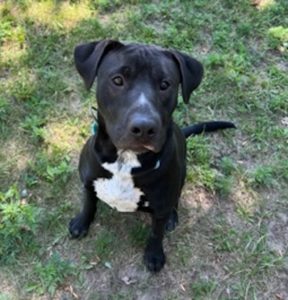 They have named me Dre, but I'm not a doctor. I was very timid when I first arrived here, it's very intimidating. I have grown accustomed to the noise and other dogs, and have started to act my goofy self. I've been here at the shelter now for almost 6 months and I've really grown to love the staff and don't even mind the other dogs, though I don't get along with many of the other male dogs. I don't mind cats, honestly they freak me out just a bit so I tend to avoid them. I came in as a stray, so the staff doesn't know a whole lot about my past, but it's pretty safe to say I haven't had much training, they do seem to think I am housebroken though so that's a plus! I know some basic commands, like "sit" and "down" but when I get too excited I tend to forgot my manners. I promise I'm willing to learn if you will teach me! I love going on walks, though I get a little antsy when we have to stop and I bet I would do great in a car too! Won't you give me a chance? I'm ready for a cozy couch and my very own human to snuggle, I promise I'll be a good boy!
The Charlevoix Human Society's mission is to practice and promote the principle that every life is precious. As such, we are committed to the highest principles of humane care and professional treatment of injured, ill, neglected or abused animals. For more information on pets that are available for adoption or to donate, visit the shelter at 614 Beardsley Street in Boyne City or online at www.charlevoixhumane.org
From AuSable Valley Animal Shelter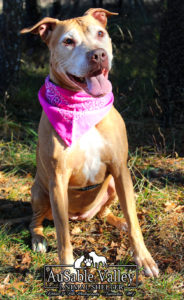 This joyful girl is ten years young, but you wouldn't know it by her wiggling, wagging, and sweet personality. Twitch can't get enough of people, fun, or toys! This youthful girl loves to play and is always up for a game of fetch or whatever involves her favorite humans. She's smart, eager to please, and has boundless energy. Twitch loves to go for walks, is great on a leash, and needs to be in a home without cats. This beautiful girl is housebroken, spayed, up to date on her vaccinations, and heartworm negative. For more information about Miss Twitch, please call the shelter at (989) 348-4117, or email at avascares2@gmail.com.
AuSable Valley Animal is a privately funded nonprofit animal shelter. We are a No Kill facility and stray center for dogs within Crawford county and a closed admission No Kill cat shelter. Our main goals are rehab and rehome, education, and animal welfare within our community.
Visit us online at
www.ausablevalleyanimalshelter.org
.
From Cheboygan County Humane Society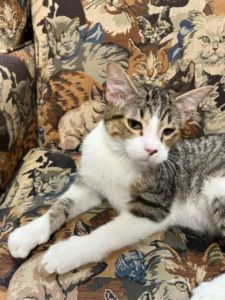 Benjamin is a cute, and very friendly, kitten. He is a special needs adoption as he and all his siblings have cerebellar hypoplasia, also known as CH or wobbly cat syndrome. CH is a neurological disorder that causes sudden jerky movements, uncoordinated motion and loss of balance. In a CH cat, the brain does not develop properly. This can happen when the pregnant mother has feline panleukopenia virus (feline distemper) and passes the virus along to her unborn offspring. CH is neither contagious nor painful. If you're interested in Benjamin his adoption fee is waived. All kittens are neutered/spayed, microchipped, and vaccinated.
Please visit their website at cheboyganhumanesociety.org. Or stop by the shelter at 1535 Hackleburg Road, Cheboygan. Call 231-238-8221 for more information. Shelter hours are Mon-Fri 9-4pm and Saturday noon-4pm.