If you are looking for a new furry family member for your home, please consider adopting from one of our area shelters. There are thousands of pets each year in Northern Michigan who lose their family for one reason or another. Rescue is love!
From the Little Traverse Bay Humane Shelter
Special notice: due to the coronavirus, the shelter is closed to the public and adoptions are by appointment only. Daycare services are also suspended until further notice. Boarding and grooming is by appointment only and we are offering curbside pickup service for your pet. Little Traverse Bay Veterinary Clinic remains open, but we encourage clients who have non-essential appointments to reschedule if possible.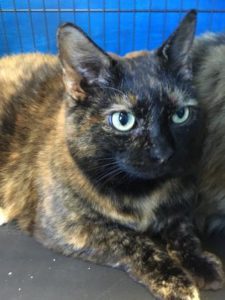 Hi! My name is Brownie and I am a 3 year old Boxer mix. I came to LTBHS from a local shelter and I am so excited to have a family of my own! Everyone here loves my happy personality and I would love to find a home that will take me for lots of walks and hikes since I am quite energetic. I also really enjoy having dog friends, I have not met a cat face to face yet so I am not sure how I feel about them! Because of my energy level, and since I do like to jump, I would probably do best in a home with older children that I could play with. I am learning all kinds of things here at the shelter, they say I am smart as well as handsome, so I would love to have a home that will continue teaching me manners. Please come and meet me to see if I might be a good furry addition to your family!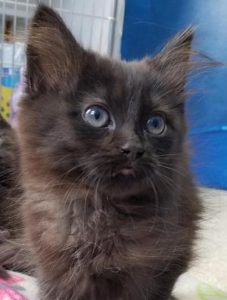 Are you looking for a sweet, flurry kitten to join your family? Then look no further since I meet that description. My name is Alpine and I'm only 10 weeks old–just the right age to find my forever family I think! I'm in foster care with a lot of other cats, but I hope to be available for adoption soon.
The LTBHS located on West Conway Road, between Petoskey and Harbor Springs is a no kill shelter that helps find homes for over 500 dogs and cats each year. The LTBHS is completely funded thru donations. All pets adopted from LTBHS are neutered and have received a vet check and shots. For more information about all pets available for adoption or to donate, visit them online at www.ltbhs.com

Cherryland Humane Society
Special notice: Due to the Coronavirus situation, volunteers will not be visiting media for at least the next couple of weeks. Please talk about the following Pet of the Week. CHS is currently closed to the public EXCEPT BY APPOINTMENT ONLY. (231) 946-5116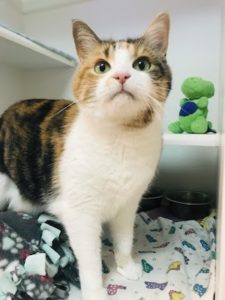 My name is 
Piper
and I demand a foster or forever home!  I'm three years old and I know what I want.  I've got green eyes that always make people look twice at me. I don't mind, as long as they give me some space to do my own thing. I love exploring, looking out the window, playing, and snuggles and pets when I am in the mood.  I'm the kind of cat that will give you your space, and you can give me mine.  I do like to talk, and I have a beautiful voice that is sure to make you smile! Please call the humane society to inquire more, if you think we'd be good pals
Cherryland Humane Society is a private, no kill animal shelter servicing Grand Traverse and Leelanau counties. We are an independent, 501-C, non profit organization. CHS is dependent on donations, fundraising activities, estates, planned giving, memorials and occasional grants for operation. Visit our available pets online at cherrylandhumane.org
AC PAWS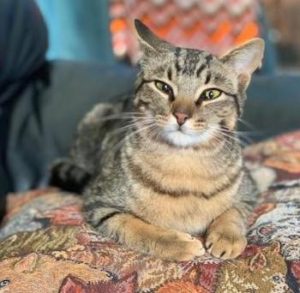 To do our part in slowing the spread of the coronavirus in our community, AC PAW is temporarily closing the cattery at PetSmart
and suspending adoptions. We will announce their resumption as soon as it is safe.
Until then, you can see our cats on our website
acpaw.org
. Fill out an online pre-adoption questionnaire, and we'll contact you. Our other work will go on. We're still caring for the rescued animals in our system and managing the AC PAW organization. It all continues, and we will need your support as much as ever.
AC PAW was founded in 1995 to give animals a second chance at life. The non-profit, no-kill shelter started as a safe haven for animals from abuse, hunger, disease and death. AC PAW has now rescued over 6,000 animals in the northern Michigan region and services the five-county Grand Traverse area.
Help From My Friends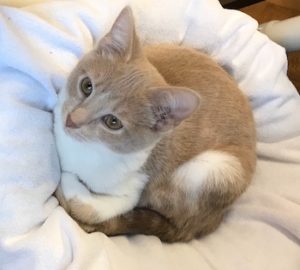 Ophelia is the prettiest kitty and very friendly! So much so she wants to be around you all the time to see what you're doing and if you have time to play or snuggle. Ophelia is 8 months old, spayed, negative for FeLV & FIV, up current on vaccines and microchipped.
If you would like to adopt, please call the center at (231) 533-4070. 
For more information visit
helpfrommyfriends.org
From the Charlevoix Humane Society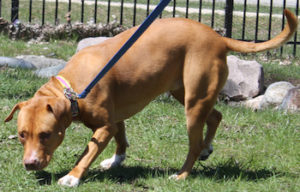 Meet Tiva! She is a three year old bully mix, who has such a loving personality. Unfortunately she does not get along with other pets, but she is very good with older children. Tiva will love up on you with hugs and kisses and lay with you all day long. She is an active dog who likes walks and playing outside. Tiva would make a great dog for any kind of family with no other pets.
The Charlevoix Human Society's mission is to practice and promote the principle that every life is precious. As such, we are committed to the highest principles of humane care and professional treatment of injured, ill, neglected or abused animals. For more information on pets that are available for adoption or to donate, visit the shelter at 614 Beardsley Street in Boyne City or online at www.charlevoixhumane.org
From AuSable Valley Animal Shelter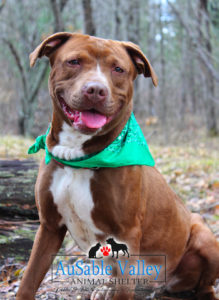 Do you see my smiling face? My name is Breeze and I am three year old Staffordshire Terrier Mix. I have a very fun personality and I'm sure that I will provide you with hours of entertainment. I am a real sweetheart and I know you will fall in love with me as soon as you see me. I will make a wonderful family dog. I get along really well with kids and other dogs. My most favorite thing to do is chase squirrels. I just love the thrill of the chase! I mean who wouldn't love chasing squirrels? They are like fast and fun little toys to me. I guess having a fenced in yard would be the best thing for me. You may have noticed that I may be a little on the short side but I am a true lover at heart. We can cuddle every night on the couch or in bed. I absolutely LOVE being scratched behind my ears. Yep! That is the best scratching spot ever! If I seem to fit your family and you are looking to add a new member to your family, then look no further! I'm the one you've been waiting for! Please come to the shelter to adopt me soon!
For more information, please call the shelter at (989) 348-4117 or e-mail: avascares@yahoo.com
AuSable Valley Animal is a privately funded nonprofit animal shelter. We are a No Kill facility and stray center for dogs within Crawford county and a closed admission No Kill cat shelter. Our main goals are rehab and rehome, education, and animal welfare within our community.
Visit us online at www.ausablevalleyanimalshelter.org.
From Cheboygan County Humane Society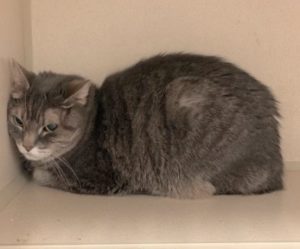 Jinx is 13 years old, spayed, chipped and UTD on shots, adoption fee $25.00. Jinx would be best in a home without other pets or kids as she is not good with them. She tends to stay to herself most of the time. She does not like being picked up and being held. Jinx will use her litter pan, but is finicky and will NOT use it if it is not cleaned out at least once a day.
Please visit their website at cheboyganhumanesociety.org. Or stop by the shelter at 1535 Hackleburg Road, Cheboygan. Call 231-238-8221 for more information. Shelter hours are Mon-Fri 9-4pm and Saturday noon-4pm.