If you are looking for a new furry family member for your home, please consider adopting from one of our area shelters. There are thousands of pets each year in Northern Michigan who lose their family for one reason or another. Rescue is love!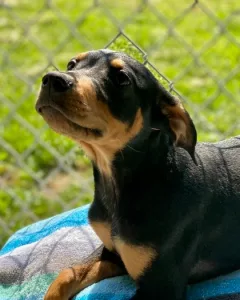 Penny, Sheldon, Raj and Amy are the new puppies. If you are the king (or queen) of nerds, graduated college at 14, or just love a good squishy puppy, these guys are for you!
These little nuggets are about 3 months old and currently weigh around 20lbs. This crew arrived from our good friends at
Wexford County Animal Control/Shelter
, who work tirelessly for the animals in their community. Thank you to ACO Jamie for constantly putting in the work to educate the community, support pet owners and care for all of the shelter pets.
Visit these pups at our shelter Monday through Saturday from 10a to 5p,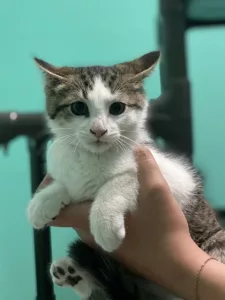 My name is Flamingo. I am a very scared kitten that is here in hopes of finding myself a family that is willing to be patient with me while I get comfortable in my a new environment. If you are interested in adopting me, please fill out an application and come on in to spend some time with me. Love, Flamingo
The LTBHS located on West Conway Road, between Petoskey and Harbor Springs is a no kill shelter that helps find homes for over 500 dogs and cats each year. The LTBHS is completely funded thru donations. All pets adopted from LTBHS are neutered and have received a vet check and shots. For more information about all pets available for adoption or to donate, visit them online at www.ltbhs.com

Cherryland Humane Society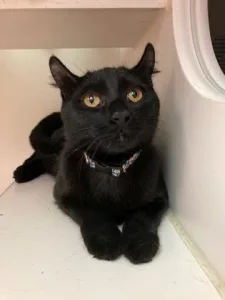 Name: Bobbidi

Info: Female, 1 year old, DSH
Days At the Shelter: 78 days
Hi, I'm Bobbidi! I was born in someone's home and was loved for 7 months until they could no longer care for me. Due to no fault of my own, I ended up at CHS. I was adopted out with one of my sisters but was returned because I was having litter box issues. I was treated for a UTI and am now feeling better and not having litter box issues.
I'm looking for a family who is willing to go slow with me and work on my anxiety. When I feel comfortable with you I'm a chatty girl who likes pets.
Think I'd make a good fit for your family? Come meet me and fill out an application.

Cherryland Humane Society is a private, no kill animal shelter servicing Grand Traverse and Leelanau counties. We are an independent, 501-C, non profit organization. CHS is dependent on donations, fundraising activities, estates, planned giving, memorials and occasional grants for operation. Visit our available pets online at
cherrylandhumane.org
TC PAWS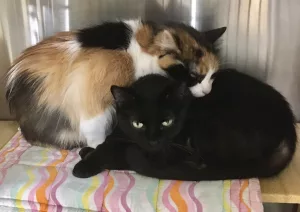 CALLIE AND HER MOTHER MISSY were surrendered to TC PAW when their famiy could no longer care for them.  In their foster home, Callie took a little time to warm up, but now she is a sweet, chirpy cat who likes to be petted and has started sharing the bed with her people. 

We think she'll be a lap cap in a quiet home. Loud noises startle her.  She lived with other cats in her previous home. Her foster family's dog doesn't seem to bother her. She is a beautiful six year old medium hair calico.

MISSY is a sweet, chatty girl who is the braver of the two and is the first to greet her family each morning and evening. She enjoys her food and treats and once she trusts you, being petted. Loud noises startle her. She avoids her foster family's dog so they think she'd be happier

in a home without dogs. Missy is a short hair very pretty 7 year old black kitty. Callie and her mother are very close and they should not be separated. Callie follows her mother everywhere. They cuddle and groom each other all the time. We hope someone will have a place for both of these pretty girls.

 If you would like to meet to adopt Callie and Missy or for more information, go to our website at www.tcpaw.org under adoptable cats and fill out our adoption questionnaire. A TC Paw volunteer will contact y

ou.
TC PAW was founded to give animals a second chance at life. The non-profit, no-kill shelter started as a safe haven for animals from abuse, hunger, disease and death. TC PAW has now rescued over 6,000 animals in the northern Michigan region and services the five-county Grand Traverse area.
From the Charlevoix Humane Society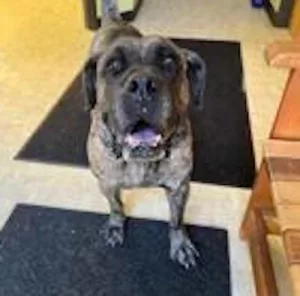 This adorable face belongs to Ursula! Ursula is an older mastiff mix who found herself with us after being found as a stray. This girl is a complete gentle giant and would mesh well in almost any home. Ursula walks amazingly on a leash and even appears to be housebroken! She is tolerant of most dogs and would do well with children (as long as the can respect her personal space). Come meet this big ole bundle of love and we just know she will melt your heart!
The Charlevoix Human Society's mission is to practice and promote the principle that every life is precious. As such, we are committed to the highest principles of humane care and professional treatment of injured, ill, neglected or abused animals. For more information on pets that are available for adoption or to donate, visit the shelter at 614 Beardsley Street in Boyne City or online at www.charlevoixhumane.org
From AuSable Valley Animal Shelter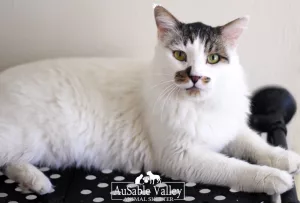 Meet Bougi, a two-year-old male Turkish Van. Bougi was transferred from an independent rescuer and has unfortunately spent most of his life in a shelter; so, he is ready to try out home living! He is the SWEETEST boy you will ever meet. He sits in our community room and cries at the window for attention and loves to sit in the sink and wait for the water to be turned on. He is the first cat at the door, ready to greet you with a chirp and headbutt. Turkish Vans are a rather rare breed in the United States, with only 100 being born a year! So, we are very excited to find Bougi a home that fits him best. He would likely do best as the only cat, as he is a big boy and truly wants all of your attention and occasionally has a hard time sharing that attention. He does have a permanent injury to his jaw that is not very noticeable but will require continued medical treatment to insure it does not become infected or worsen. Bougi is neutered, up to date on his vaccinations, microchipped, and litter trained. If you are interested in Bougi, please call the shelter at (989) 348-4117, or email us at AVASCares2@gmail.com.
AuSable Valley Animal is a privately funded nonprofit animal shelter. We are a No Kill facility and stray center for dogs within Crawford county and a closed admission No Kill cat shelter. Our main goals are rehab and rehome, education, and animal welfare within our community.
Visit us online at www.ausablevalleyanimalshelter.org.
From Cheboygan County Humane Society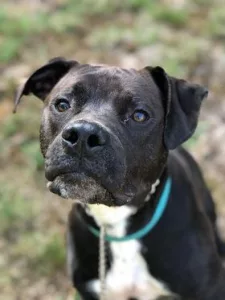 Casper is a 1 year old mixed breed male. He is very sweet but still very full of puppy energy. He gets along with cats and other dogs well. We would not recommend him around small children as he jumps a lot and he is a big dog. Casper is house-trained and crate-trained but may need a refresher in a new home. If you are interested in Casper, he would love to find his forever home. He is neutered, microchipped and up to date on vaccines. His adoption fee is $120.
Please visit their website at cheboyganhumanesociety.org. Or stop by the shelter at 1535 Hackleburg Road, Cheboygan. Call 231-238-8221 for more information. Shelter hours are Mon-Fri 9-4pm and Saturday noon-4pm.