If you are looking for a new furry family member for your home, please consider adopting from one of our area shelters. There are thousands of pets each year in Northern Michigan who lose their family for one reason or another. Rescue is love!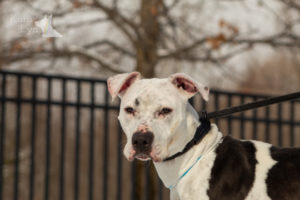 My name is Joyce and I'm a sweet girl looking for a forever home. If you have any other dogs, please bring them in to make sure we all get along. I'm only a year-and-a-half old and the perfect medium size at just over 40 pounds. My adoption comes with a training voucher and that sounds like a fun way for us to get to know each other. Hope to meet you soon! Love, Joyce.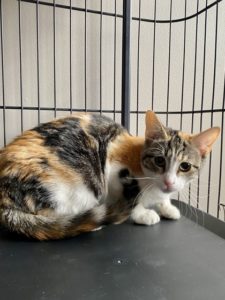 Hello, my name is Sparkle because I am here to bring a little sparkle into your life. I am an older kitten that is here in hopes of finding myself a new forever home. If you are interested in adopting me, please fill out an application and come on in to spend some time with me. Love, Sparkle
The LTBHS located on West Conway Road, between Petoskey and Harbor Springs is a no kill shelter that helps find homes for over 500 dogs and cats each year. The LTBHS is completely funded thru donations. All pets adopted from LTBHS are neutered and have received a vet check and shots. For more information about all pets available for adoption or to donate, visit them online at www.ltbhs.com

Cherryland Humane Society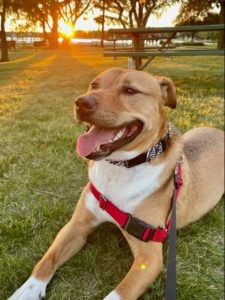 Name: Miles
Info: Male, 3 years old, Mixed Breed
Weight: 55 lbs
Days At 
the
 Shelter: 547 days
History: Stray
Description:
My name is Miles. Sometimes I feel as though I have traveled miles and miles to get to where I am now.
After this coming September, I will have been with Cherryland for two years – so more than half of my time on this earth has been spend living in a shelter.
In my past life, I was kept in a kennel on the porch because my dog sibling did not like me. Because of this, I am dog selective. I love some dogs or can be very unsure of others. I would however prefer to be the only household pet, but I can make friends when given proper introductions and time.
It's the same with new people friends, because I was not given the proper socialization tools while I was younger, meeting new faces can be a stressful time for me. Time and patience is needed and necessary, but I am so worth the extra work.
And I am putting in the extra work myself, and have seen many improvements the last few months. I was able to find the most wonderful foster home where my foster momma worked diligently to teach me tools to help me be my best self.
Unfortunately – due to living arrangement changes – my time in foster had to come to an end. I am so hoping my time back at the shelter is limited, either by finding my forever person or another foster home to welcome me with open arms.
My socialization is something that will need ongoing work throughout my life, which is why I am specifically interested in finding a quiet and patient human to call my own. No young kiddos please.
I also LOVE to smile, when we become friends I will show you my pearly whites constantly! Don't be deterred by my cute little teeffers!
Things about me –
1. Cuddle machine, snuggle champion
2. Cheese is the way to my heart
3. Yes my little ears are too cute to handle, thank you for noticing 🙂
4. 2022 My North Cutest Pet Photo contest winner!!!
Cherryland Humane Society is a private, no kill animal shelter servicing Grand Traverse and Leelanau counties. We are an independent, 501-C, non profit organization. CHS is dependent on donations, fundraising activities, estates, planned giving, memorials and occasional grants for operation. Visit our available pets online at
cherrylandhumane.org
AC PAWS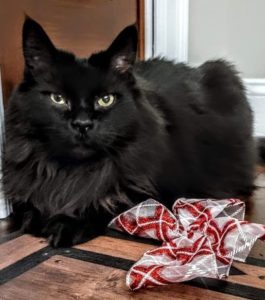 JETA is a beautiful black, long-haired, green-eyed  girl. She was relinquished to AC PAW when her owner passed away. She was frightened and unhappy at her first AC PAW foster home and needed space to adjust to her new situation, but she has settled in nicely now that she trusts her people. She is a friendly, bright, active cat who likes to look out the window and chatter at birds and squirrels. Her favorite window has a heat register on the floor below it which she can lie on. She likes to be with her people and will follow you around the house. She loves petting and attention, mostly on her terms, and she'll tell you when she needs space. Her long, soft fur and luxurious tail need brushing to keep her pretty. Since she wants only short brushing sessions, her fosters give her a quick brush each night while they watch TV. Jeta has some entertaining traits. She often shows the tip of her tongue, possible because she lost one of her top canine teeth.  Her feet look like they belong on a bear with white tufts of fur that look like bear claws. She enjoys her morning and evening servings of canned food. Being the only cat would be best for Jeta. She does live with another cat, but she bosses and sometimes harasses her. There is a dog too, whom she is cautious of, but they get along. Jeta can be feisty when she doesn't like something , so she may be better placed in a home with older kids and adults.

Jeta is six years old. If you would like to meet Jeta or for more information, go to our website at

www.acpaw.org

and fill out an adoption questionnaire. An AC PAW volunteer will contact you.
AC PAW was founded in 1995 to give animals a second chance at life. The non-profit, no-kill shelter started as a safe haven for animals from abuse, hunger, disease and death. AC PAW has now rescued over 6,000 animals in the northern Michigan region and services the five-county Grand Traverse area.
From the Charlevoix Humane Society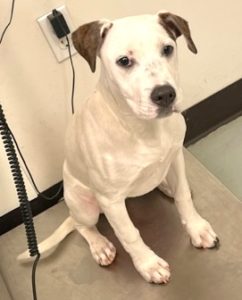 Give me kisses and tell me I'm pretty! They call me Lena and I'm looking forward to a real place to call home. Please don't let the stigma of my breed stop you from picking me, my tail doesn't stop wagging and I love snuggles. I have spent almost my whole life here at the shelter and I can be a little leery of new people, but once you have my trust we will be the best of friends! I'm just a baby who needs some training and positive humans in my life. Maybe even a human who has a doggy buddy to teach me how to be how to be a good girl! Since I am still a puppy I will require some puppy classes but wouldn't it be fun to learn and grow together?
The Charlevoix Human Society's mission is to practice and promote the principle that every life is precious. As such, we are committed to the highest principles of humane care and professional treatment of injured, ill, neglected or abused animals. For more information on pets that are available for adoption or to donate, visit the shelter at 614 Beardsley Street in Boyne City or online at www.charlevoixhumane.org
From AuSable Valley Animal Shelter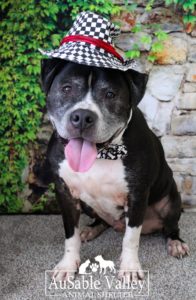 Crush is his name because melting hearts is his game. Crush is a 10-year-old, neutered male. He does well with other dogs (particularly, ladies) and would enjoy a home with a fenced in back yard, he loves people so much he often goes looking for them, so a fence is best to keep all his love to yourself. He loves people, and kids. We are unsure how he does with cats, but think he could get used to a feline friend with some dedication and training. He is house-trained, and would do well with someone who is home during the day. This handsome senior gets a little lonely and needs more frequent potty breaks, unlike the other young chaps out there. Crush would be a great addition to any home, and would love a couch to call his own. Crush has been neutered, vaccinated, microchipped. For more information about Crush please call the shelter at (989) 348-4117, or email avascares2@gmail.com.
AuSable Valley Animal is a privately funded nonprofit animal shelter. We are a No Kill facility and stray center for dogs within Crawford county and a closed admission No Kill cat shelter. Our main goals are rehab and rehome, education, and animal welfare within our community.
Visit us online at
www.ausablevalleyanimalshelter.org
.
From Cheboygan County Humane Society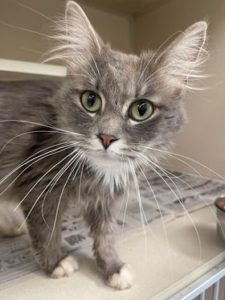 Venus is a spayed female cat. She is very friendly and loves being held. She came to us as a stray so we do not know much about her. Venus has been using her litterbox here at the shelter. She is spayed, microchipped and vaccinated. Venus' adoption fee is $25.
Please visit their website at cheboyganhumanesociety.org. Or stop by the shelter at 1535 Hackleburg Road, Cheboygan. Call 231-238-8221 for more information. Shelter hours are Mon-Fri 9-4pm and Saturday noon-4pm.