Summer deserts…. fruity, cool and easy is how I like them. And this one even looks elegant so it's perfect for a warm evening dinner party. The fruit topping is cherries but could easily be changed to blueberries or raspberries if you find them at the Farmer's Market. Enjoy this yummy treat using our local fruits.
Cherry Panne Cotta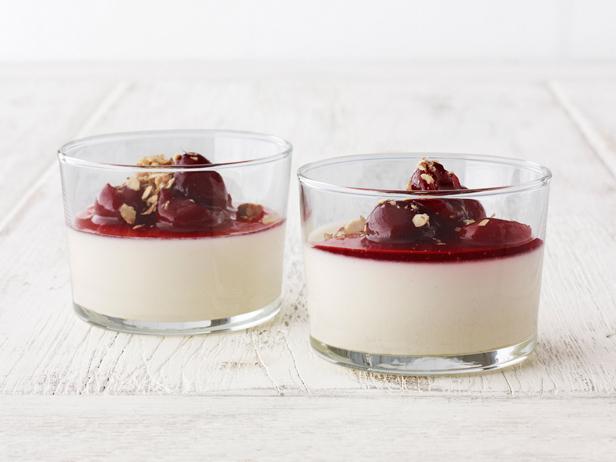 Ingredients
For the panna cotta:
1 1/4-ounce packet unflavored gelatin
1/3 cup sugar
1 cup half-and-half
1 cup buttermilk
2 teaspoons vanilla extract
2 teaspoons almond extract
For the compote:
6 cups pitted cherries (about 2 1/2 pounds whole cherries)
3 cups sugar
1 thin slice peeled ginger
1 star anise pod (optional)
Juice of 2 lemons
2 teaspoons vanilla extract
Chopped toasted almonds, for sprinkling (optional)
Directions
Make the panna cotta: Fill a liquid measuring cup or small bowl with 1/2 cup cold water; sprinkle the gelatin on top and let stand 5 minutes.
Heat the sugar and half-and-half in a small saucepan over medium heat, whisking to dissolve the sugar. Remove from the heat and whisk in the gelatin mixture until dissolved. Stir in the buttermilk and vanilla and almond extracts. Pour through a fine-mesh sieve into a large liquid measuring cup or bowl. Let cool to room temperature, then divide among 6 glasses or small bowls. Refrigerate until firm, at least 4 hours.
Make the compote: Combine the cherries and sugar in a large saucepan; let sit at room temperature until juicy, about 4 hours.
Add the ginger and star anise to the cherry mixture and bring to a boil over medium-high heat. Cook, stirring occasionally and skimming any foam from the top, until thick and syrupy, about 30 minutes. Stir in the lemon juice and vanilla extract and cook 2 to 3 more minutes; remove from the heat and let cool completely. (Refrigerate any leftover compote in an airtight container for up to 1 month.) Spoon on top of the panna cotta and sprinkle with almonds.