It's National Taco Day…. so pop a Corona and let's make tacos!  Street tacos are a favorite fast food. They are easy and fun to put together. And this one is great because you can make the pork in the slowcooker… it will be waiting for you when you're hungry. From a quick after work dinner to game day Sunday snacks, tacos just fit!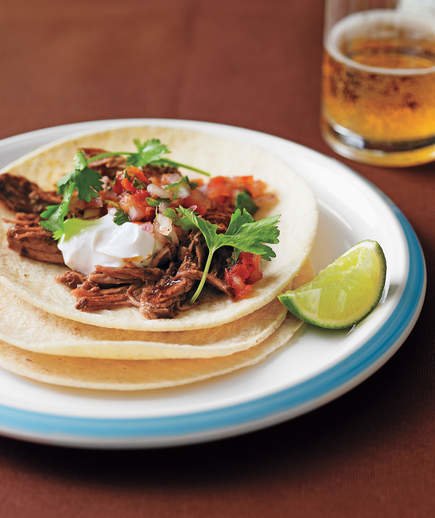 Ingredients
2 cups store-bought salsa, plus more for serving
2 tablespoons chili powder
2 tablespoons dried oregano
2 tablespoons unsweetened cocoa powder
kosher salt
1 2 1/2-pound boneless pork butt or shoulder, trimmed of excess fat
18 corn tortillas
1/2 cup fresh cilantro sprigs 3/4 cup sour cream
1 lime, cut into wedges
Directions
Step 1 In a 4- to 6-quart slow cooker, combine the salsa, chili powder, oregano, cocoa, and 1 teaspoon salt. Add the pork and turn to coat.
Step 2 Cook, covered, until the meat is tender and pulls apart easily, on high for 4 to 5 hours or on low for 7 to 8 hours.
Step 3 Twenty minutes before serving, heat oven to 350° F.
Step 4 Stack the tortillas, wrap them in foil, and bake until warm, about 15 minutes.
Step 5 Meanwhile, using 2 forks, shred the pork and stir into the cooking liquid. Serve with the tortillas, cilantro, sour cream, lime, and extra salsa.
Recipe courtesy of Real Simple.