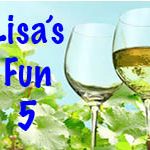 Up North Beer Week kicks off on Friday, and a great show continues at the Old Town Playhouse. Michigan Wines are celebrated at the Inn at Bay Harbor this weekend, with lots of fun events for Mom. You can bag a bargain for a great cause in Traverse City with the Father Fred Garage Sale, and don't miss the annual Shanty to Shorts run in Bellaire!
Up North Beer Week, May 11-19
This is a week full of fun events for beer lovers, with food and brew specials and events at restaurants, breweries and taprooms all across the area. This weekend, you can check out Originals Night at Biere De Mac Brew Works, a Belgian Style Beer class at Cafe Sante', Beer Bingo at the Sugar Bowl in Gaylord, and Tunnel Vision at Pond Hill Farm! Learn more at UpNorthBeerWeek.com
"Young Frankenstein" at the Old Town Playhouse, through May26th
I saw this Mel Brooks musical on opening night-it was a riot! Packed with musical and dance numbers, this is a fun show for the grown-ups, but you might want to leave the kids at home for this one. Tickets are $15-$28 and showtimes are Thursdays through Saturdays at 7:30, with Sunday matinees at 2pm. Learn more at oldtownplayhouse.com
Sparkle at the Inn at Bay Harbor, May 11-13
This weekend celebrating Michigan wine begins with a sparkling wine cocktail reception on Friday night. You can enjoy the all-new Sparkle at the Spa, exclusive winery tours, a 5 course wine dinner on Saturday night, and the classic Mothers Day Brunch on Sunday. Visit innatbayharbor.com to learn more.
Father Fred Spring Garage Sale, Saturday, May 12th, 9am-4pm, 826 Hastings St, Traverse City
Shop everything from furniture and home goods, to clothing, books, movies and more! All proceeds support stocking the food pantry and providing additional resources. Get more info at fatherfred.org
Shanty to Shorts 5k/10k Fun Run, Saturday, May 12th, 10am Shanty Creek Resorts Lakeview Hotel, Bellaire
Come join the beer run to Shorts Brewing in Bellaire! Transportation back to the start will be provided from 11am to 1pm. Pre-registration is $20 per person. Get details at shantycreek.com/event/shanty-2-shorts