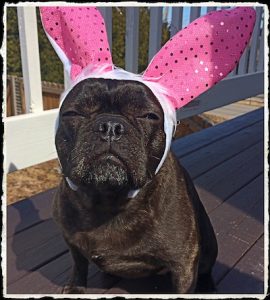 Easter is Sunday…. and I love making the dogs part of the holiday. And when I say making them part of the holiday, it usually means finding bunny ears and forcing them to wear them for a photo. No wonder they run when they see the camera.
Easter can be dog fun though. If you have kids, I found a really fun way to bring the dogs into your Easter Egg hunt. Download this template so you can make cute dog eggs. It's a way to color the eggs and dress them up…. as dogs. They'll look adorable in your baskets and the kids will love them. Click here to download the template.
What about eating the eggs? I have one dog that loves eggs and the other can't stand them. Don't be afraid to add them to dinner though. They are healthy protein and good for their coats.  Just leave the mayo behind.
Enjoy the holiday and get out for a walk with your furry friends.  And speaking of walks, in the next few weeks, I'd like to feature some of your favorite places to walk your dog. So leave a comment and let us know places that are dog friendly and dog interesting. It's been a long winter!
The Up North Dog Blog is brought to you by Purity Pet Services. Need a spring cleanup? Let them pick up the doo doo!