This past weekend was so wonderful! I hope you found your walking shoes and got to take your dog for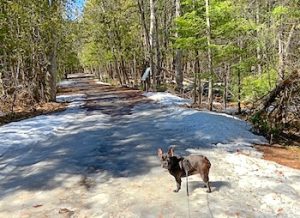 a long walk. Saturday was just perfect! All I have to do is put on the "walking shoes" and my dogs go crazy. One of our favorite walks is the Oden Fish Hatchery. My dogs love it for so many reasons. There are always great smells from other animals, they can walk in the woods, find the all important stick to carry and there are a number of places along the way for a quick swim. Sometimes, they even run into a kid or two to ambush with kisses.
We also love the Bear River trail in Petoskey, the wooded trail in Bayview and the North Country Trail off Brutus Road. It's that time of year when you can walk… before the bugs come alive for summer. But, we've found it's never too early for ticks. They are like nuclear survivors…. nothing seems to kill them. So as you head out for a summer of outdoor fun with your dogs, we thought this handy guide to manage ticks might be helpful for you. Don't forget to check you and your dogs after every walk!

Source:
CanineJournal.com