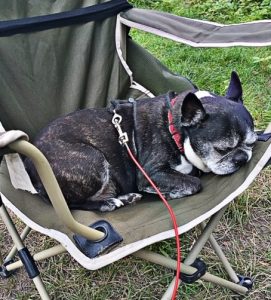 Summer is here and that means camping! I love summer camping. It's a great time to get away, enjoy the beauty of Michigan and spend time with my dogs. Baxter loves it too. He get tons of swim time and exercise, sees new things for mental stimulation and might even get a hotdog from the campfire. But camping with the pooches requires some planning and it also requires you to know your dogs. Know what you need and pack for them too… and you'll be on your way to fun filled Northern Michigan getaway.
What's the best way to succeed camping with your dogs? Here's a few tips that I've learned along the way.
Know your dogs camping personality. My older dog is a great camper. He's mellow and not very excitable. He is really the perfect camping dog. His sister however is not the best camper. She loves everything about camping, but she pretty excitable and alert all the time. So, a campground with a lot of people and dogs is just too much for her. She only gets to go if we're wilderness camping. Before you decide where to camp, think about your dog and how they react… then pick your destination accordingly.
Make sure the campground you're going to is dog friendly. Call ahead if it's a private campground or check the website for state parks and state forest campgrounds to see their dog rules.
Brush up on commands. The worst thing that could happen is your dog taking off and getting lost. So make sure your recall command is strong and don't forget your leash and tie-outs.
Be prepared for emergencies. A few years ago, we were camping in the UP with our puppy. She was attacked by black flies and her face became very swollen. We had to drive 40 miles for Benadryl. Now, I have a dog first aid kit too. What should be in yours?
A bandana for a makeshift muzzle
Flat-bladed tweezers (or a tick twister) and a small container of mineral oil for tick removal.
An emergency blanket for treating shock or cold
Booties for protecting injured paws (toddler socks work great!)
A small first aid book with instructions for treating pets
Benadryl for bug bites, an ace bandage, cloth tape, large gauze pads and scissors
The name, phone number, and directions of a nearby veterinarian or pet emergency clinic
Don't forget their bowls and a portable water bowl. If you're hiking, a water bottle for them is just as important as yours. Giardia is a horrible parasite found in many lakes and streams. It causes diarrhea and takes a few weeks to treat. So water from a pure source can save you future vet bills.
Know where they will sleep. Make sure you take their bed if they will be comfortable and warm enough. If not, think about sharing your sleeping bag with them or buy them a special dog camp bed and sleeping bag. My Baxter sleeps in the sleeping bag with me, all covered up. Just like he sleeps at home.
Buy and LED lighted collar. They are inexpensive and can be a lifesaver at night. There is nothing worse than trying to find a black dog in the dark.
Be courteous of your camp neighbors. No one thinks your little barking dog is cute. They are there for quiet and relaxation too. And never forget there are wild animals that can appear at any time. Be alert and never let your dog roam. Good camp neighbors have good dogs. And you'll enjoy your trip much more if your dogs are put in a position to succeed as good camping dogs.
If you have a dog that just isn't cut out to camp, don't force them. I have one of those. She's much happier at home in her familiar home. So she stays at home with a dog sitter. Everyone is much happier.
Once you have a plan and all the dog equipment in your camp box….. you'll find your dog is a great camping companion. And on those cold UP nights… a pretty good sleeping bag heater too!