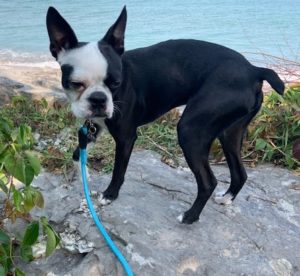 October is Adopt a Shelter Dog Month…. So it's a great time to introduce you to my new dog Bailey. He came home with me a couple of weeks ago and he's been such a joy.
He is adorable, full of energy and is proof that you can find just the dog you want through a rescue or shelter. You just need to be patient.
Bailey came from Midwest Boston Terrier Rescue. I applied and was approved with them in May. I was looking for a younger dog to be a companion to Pippa. One day, I was browsing their Facebook page and he became available for adoption.
Bailey was deaf and needed a home with someone who had deaf dog experience. I had already had a dog born deaf and learned all about deaf dog training from her. So I was very willing to take on Bailey and teach him too. He's not quite a year old, so he has a lot to learn!!!
So the moral of the story….. rescue dogs are great dogs. So before you buy, think adopt. Every breed as a rescue group. And shelters are full of great dogs just waiting for their forever family.
I have had three rescue dogs and will always go that route. Rescued love is true love!