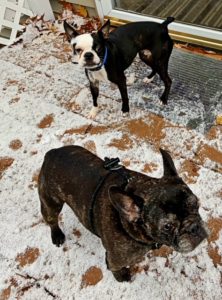 I'm so excited that for the first time ever, the White House is the home of a rescue dog. The Biden's dog Major was adopted from the Delaware Humane Society. Major even had his own "indoguration" and raised more than $200,000 for the humane society. It sends the right message at a time when shelters and rescues need help.
So many dogs need homes. And COVID-19 has made it harder for dogs to get into shelters as well as making it harder for shelters to raise needed funds. Adopting a dog and supporting your area shelters is more important now that ever.
All of my dogs have been adopted from shelters or a rescue. And they are living proof that the dog you want is out there. Breed rescues are a great place to start if you have a particular breed of dog you're looking for. Santa brought me my first Boston Terrier when I was only 3 years old. And that has been my breed forever. I also fell in love with their snorty cousin, the French Bulldog and after many years of searching, adopted a Frenchie too. Both came from a breed rescue group. And the good news, almost every breed has other dedicated dog lovers who volunteer in breed rescue groups across the country working to match dogs with loving forever homes. A simple Google search of the breed you're looking for plus the word "rescue"  and your state will give you a place to start.
My dogs have been adopted from the Little Traverse Bay Humane Society, Midwest Boston Terrier Rescue and Chicago French Bulldog Rescue. And I would give them all an A+ for care and matching me with a great dog. I cannot recommend them enough.
So as we watch a rescue dog romp though the White house, let's hope that leads to more awareness of just how perfect rescue dogs can be. And when you're thinking about adding to your fur family…. remember…. rescued loved is the best love!