If you are looking for a new furry family member for your home, please consider adopting from one of our area shelters. There are thousands of pets each year in Northern Michigan who lose their family for one reason or another. Rescue is love!
From the Little Traverse Bay Humane Shelter
 Most Terriers are happy little dogs and I'm pleased to say that I'm one of them. My name is Ricardo and I'm a five year old Terrier mix. My markings are quite unique for a little guy like me, and just look at those ears! I'm very friendly with most dogs, however I better meet any new play companions before I join your family. Sometimes large dogs scare me. When it comes to children, I prefer that they were older-twelve and up. That's because I can be protective of my food. And definitely no cats for me because I like to bark at them. "Go away cats! Back off!" They can be so annoying sometimes. Sorry if you are a cat person, I, Ricardo am not. I love to play and have fun like most terriers, but when you need a loyal companion, you can count on me to be your forever pal.

If I could, I would spend my days lounging on the beach in the sun. There wouldn't be any noisy children or overly friendly dogs. There definitely wouldn't be any other cats. I could roll around in the sand with my favorite toys, without a care in the world! My name is Maui and I am a four and a half year old lady. I have a brown tiger coat, with a beautiful collar, white blaze, and some flares of red. I have worked my way down to a healthier weight and I am feeling fabulous! I am a strictly indoor kitty, just looking to live the good life in a forever home! It can take me some time to get comfortable in a new home, but it is worth the wait! I hope someone will give me a chance soon.
The LTBHS located on West Conway Road, between Petoskey and Harbor Springs is a no kill shelter that helps find homes for over 500 dogs and cats each year. The LTBHS is completely funded thru donations. All pets adopted from LTBHS are neutered and have received a vet check and shots. For more information about all pets available for adoption or to donate, visit them online at www.ltbhs.com

Cherryland Humane Society
Bruno is a one-of-a-kind gentleman! He loves to sniff around, and have something to focus on. He's a smart dude! He knows to sit, down, and shake already. He loves his treats so much, that he could probably even learn more! Although he isn't the biggest fan of being coddled (he is an independent guy after all), Bruno does well when he has his favorite frozen treats, a nice chew, or another cat or dog to play with! Come see this senior dog at Cherryland Humane Society and find out, if you can be his forever home!
On December 7th, CHS will be at Pets Naturally for their Pet Photos With Santa event. The photoshoot is from 10am-4pm. A $10 donation will go to CHS to help our animals during this holiday season!
Cherryland Humane Society is a private, no kill animal shelter servicing Grand Traverse and Leelanau counties. We are an independent, 501-C, non profit organization. CHS is dependent on donations, fundraising activities, estates, planned giving, memorials and occasional grants for operation. Visit our available pets online at cherrylandhumane.org
AC PAWS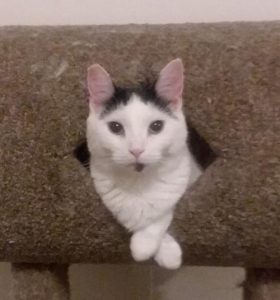 Ash is a spicy little girl with lots of energy who came from a very large cat colony in Kingsley. Ash is still a little skittish, but loves to be petted and scratched behind her ears. She does nap some, but plays hard when she's awake. She enjoys playing with the other cats in her foster home, by herself, and with her foster family. She always comes out for food and loves catnip too.
Ash would do best in a home with at least another cat to play with and older children, as she can sometimes be sassy. She has been around a dog in limited amounts, which doesn't seem to bother her since he stays away. Her spunky personality will be a fun addition to someone's home! If you're interested in Ash, go www.acpaw.org and fill out a pre-adoption questionnaire.
AC PAW was founded in 1995 to give animals a second chance at life. The non-profit, no-kill shelter started as a safe haven for animals from abuse, hunger, disease and death. AC PAW has now rescued over 6,000 animals in the northern Michigan region and services the five-county Grand Traverse area.
Help From My Friends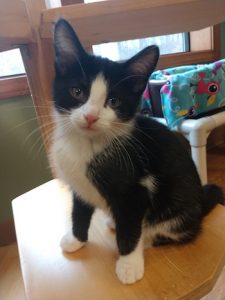 Murphy is adorable and loves to be around people! He is 13 weeks old,
FeLV & FIV negative, current on vaccines and microchipped. If you would like to adopt him before 16 weeks of age, a prepaid neuter is required from your veterinary of choice.
If you're interested, please call the center at (231) 533-4070.For more information visit helpfrommyfriends.org or facebook.com/walhfmfpetcrisiscente


From the Charlevoix Humane Society
Meet our boy Dozer.  He is our 5 month old Collie/ Shepherd/ Pit  and a few other breeds thrown in for good measure.
When he is full grown, we think he will be about 40 to 45 pounds.
Dozer is calm, observant and playful.  He loves the other puppies that are here, and can't wait to go on a walk or run.
He is extremely food motivated which we think will be a big help with training.
From AuSable Valley Animal Shelter
My name is Sierra and I'm looking for a family to call my own. I'm a mixed breed and I am four years old. Just because I'm four doesn't mean I'm going to be good on my leash. I might pull just to warn you but with some time and patience I bet I could catch on! Even though I'm an adorable dog, I lack confidence and I'm a bit nervous around kids so I would need my family's kids to be a little older. I hope you can understand and just love me. I'm very good with other dogs, and I could care less about cats. Cats are sneaky, so if they're living with me, just don't let them take my toys. Oh, and I really love toys so please make sure I have plenty! I'm ready for you to make room for me in your loving home so what are you waiting for?
For more information, please call the shelter at (989) 348-4117 or e-mail: avascares@yahoo.com
AuSable Valley Animal is a privately funded nonprofit animal shelter. We are a No Kill facility and stray center for dogs within Crawford county and a closed admission No Kill cat shelter. Our main goals are rehab and rehome, education, and animal welfare within our community.
Visit us online at www.ausablevalleyanimalshelter.org.
From Cheboygan County Humane Society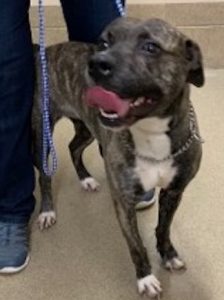 Louise has been here since April and she would love someone to come and see her.
Louise is a spayed female terrier mix that had been found abandoned out in the field. She has been here at the shelter since April and was aged around 2 years 3 months old. She is a sweet girl once she gets to know you and loves to go for walks. Louise would love for you to come out and see her. Louise had come a long ways since she has been here and is need of a loving home.
Please visit their website at cheboyganhumanesociety.org. Or stop by the shelter at 1535 Hackleburg Road, Cheboygan. Call 231-238-8221 for more information. Shelter hours are Mon-Fri 9-4pm and Saturday noon-4pm.
LITE 96.3'S PET OF THE WEEK is brought to you by Tropic Cove, located behind the D&W Plaza in Petoskey. Visit Tropic Cove online or follow them on Facebook.