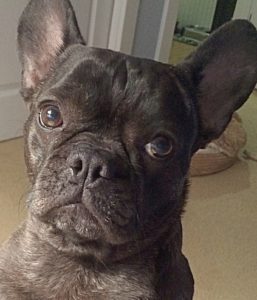 This is a blog I never wanted to write. But as all dog owners know, there comes a day when you have to say good bye. Sometimes it's a slow acceptance of an older dog that is slipping away. Other times, it's not expected. For me, this was not expected. And it's been heartbreaking.
I lost my sweet Pippa last week. She was my shadow, my after-work door greeter and a daily source of smiles. My house seems incredibly empty without her. I always said… it's Pippa's world, we just live in it.
It was fate that we found each other. Eleven years ago, I had lost another dog and was feeling very sad from that passing. One night, a friend of mine who volunteered for Chicago French Bulldog Rescue emailed me and said they had a puppy coming into rescue and if I would like her, I should apply. And I did. Fortunately, a week later, I was chosen to be her new mom.
Pippa's story is one that I share because it's important. She was born in Iowa in a commercial puppy mill and sold to a woman in Illinois through a pet store. Puppy mill puppies are not properly socialized and can many times have behavioral issues. Pippa was rambunctious and had a lot of puppy energy that needed to be refocused. The woman who bought her had done so as a gift to her elderly mother…. a terrible idea. It was cold and there was no good place to play or learn to go outside to do her business. So they gave up on her quickly and thank heavens, surrendered her to CFBR.
And then she joined my family. It became clear quickly that she needed to learn boundaries and get a lot of exercise. But she was a very happy dog and loved to play with her other Frenchie dog friends. She had some puppy incidents (shoes, a chair, my new mattress) but she eventually grew up and became a good dog. There were many days when I told her… "It's a good thing you're so cute!"
As she aged, she became a wise and thoughtful dog. I would catch her just gazing out the window, taking in the scenery. She loved to swim, hangout on the boat, walk in the woods, go for car rides and play with her new brother Bailey. Bailey is deaf and she became his guardian, letting him know through body cues when he was out of line.
Pippa was a picky eater and expected me to cook for her. Which of course, I did. She loved when I made her a batch of chicken and sweet potatoes. But what made me smile every time is… she knew what the grill was and that grilled food tasted even better. She was a fanatic for salmon and would follow me to the grill every time I made it. Salmon is good for dogs, so I always saved her a piece.  But the real treat for her was the skin. We had an agreement, I ate most of the salmon and she got the crispy skin. Seemed like a good compromise to me.
We just had a way of communicating. We got each other. I let her be her and she always knew when I needed a laugh, or a kiss… or a cuddle. I look at her spot on the bed now and it feels so empty. There is just no way to replace her.
I have always found this quote to be so true…. "Dogs' lives are too short. Their only fault, really." ― Agnes Sligh Turnbull
So as a tribute to Pippa, I am going to share one request. And it's one that I have shared before… do not buy a puppy unless you can visit the breeder, meet the mother and make sure she lives in loving conditions. Please do not support puppy mills by buying from an online website or from a pet store.
And even more importantly, seriously think about not buying a puppy at all. When you rescue, you are giving a dog in need the life they deserve. There are so many incredible dogs at shelters… or as in Pippa's case, a breed rescue, just waiting for their forever home. You'll never regret that decision. Rescued love is the best love.
Until we meet again sweet Pippa….